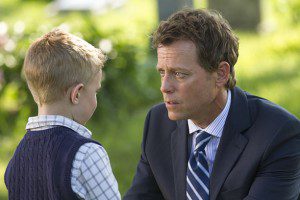 Ever since Son of God opened in theatres on February 28, there has been at least one "faith-based" movie in the North American top ten every week — and sometimes there have been two. But that streak could end after this week.
Heaven Is for Real, which is now in its sixth week, landed in the #10 spot this weekend with an estimated $1.95 million, thereby raising its domestic total to $85.8 million. The film has earned another $2.5 million overseas, for a worldwide total of $88.2 million.
All of the other "faith-based" films in theatres right now were well behind Heaven Is for Real this week, and there are no major "faith-based" releases planned for next week (not to my knowledge, at any rate), so if Heaven Is for Real gets bumped down another notch or two next week, that would mark the end of the streak.
Still, three months is quite a run.
The only other "faith-based" films for which estimates were available today are Moms' Night Out ($800,000 bringing its domestic total up to $8.8 million) and Noah ($200,000 bringing its domestic total up to $100.6 million).
Going into the weekend, as of Thursday, Son of God had earned $59.7 million and God's Not Dead had earned $59.3 million in North America.
No foreign figures were reported for any of those films this week, so their foreign totals are all unchanged since last week's update — except for God's Not Dead, which has inched up to $1.4 million overseas, giving it a worldwide total of $60.7 million.