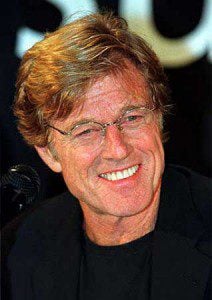 Robert Redford is in talks to play Oral Roberts in a movie about Carlton Pearson, a Pentecostal minister who was a rising star within his denomination until he revealed that he no longer believed in Hell.
The Hollywood Reporter says the film, which was originally being developed for director Marc Forster (Quantum of Solace, Machine Gun Preacher) under the name Heretics, is now being developed by Jonathan Demme (The Silence of the Lambs, Rachel Getting Married) under the name Come Sunday.
Jeffrey Wright, who has had key roles in the James Bond and Hunger Games franchises, is in talks to play Pearson himself. The script is by Marcus Hinchey (All Good Things), and it is based on an episode of This American Life that first aired in 2005.
To my knowledge, Oral Roberts has never been played by an actor in a movie before. In satirical TV shows, yes, but not in a full-length film.
Actors have played other televangelists, though. Kevin Spacey and Bernadette Peters played Jim and Tammy Faye Bakker in Fall from Grace, a 1990 TV-movie. Richard Paul played Jerry Falwell in that film and then reprised the role in the 1996 movie The People vs. Larry Flynt. Alec Baldwin played Jimmy Swaggart pre-television in the 1989 movie Great Balls of Fire! And if you count Billy Graham as a "televangelist" (he may not have had a daily talk show, but he did produce a regular series of TV specials), there was an entire biopic devoted to his early years in 2008. (He was also depicted in at least one satire of the Nixon administration in the early 1970s.)
Oral Roberts and the Bakkers (and others?) are also slated to appear in that biopic of Sam Kinison that has been in the works for the past several years.
The question of whether Hell exists or not has been debated increasingly in the decade since Pearson was formally declared a heretic by the Joint College of African-American Pentecostal Bishops. Rob Bell had a falling out with his church and was rejected by some evangelicals after he expressed his own openness to universal reconciliation in the book
Love Wins
in 2011. And my fellow Patheos blogger Kevin Miller stirred things up with his documentary
Hellbound?
in 2012.
So expect the debate to continue if Come Sunday does, in fact, get made.
You can listen to the episode of This American Life that inspired the film here:

Here's a scene of Paul as Falwell in The People vs Larry Flynt:
Here's a clip of Baldwin as Swaggart in Great Balls of Fire!:
And you can currently watch Fall from Grace in its entirety via YouTube: