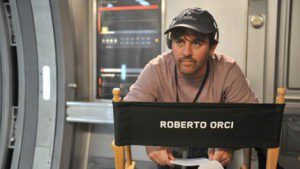 Deadline reports that Roberto Orci, who co-wrote the last two Star Trek films and has overseen the comic books that take place between the movies, is "the clear frontrunner" to direct the next one.
I could be mistaken, but if Orci gets the job, I believe he would be the first Trekkie to direct an actual Star Trek film.
Of the twelve films produced so far, six were directed by veterans of the various TV shows: actors Leonard Nimoy (ST3:TSFS, ST4:TVH), William Shatner (ST5:TFF) and Jonathan Frakes (ST:FC, ST:I), plus episodic director David Carson (ST:G).
The other six films were all directed by men who had no particular interest in Star Trek prior to getting the gig, and who often saw it as their job to try to broaden the franchise's appeal: Robert Wise (ST:TMP), Nicholas Meyer (ST2:TWOK, ST6:TUC), Stuart Baird (ST:N) and JJ Abrams (Star Trek, Star Trek into Darkness).
Orci, on the other hand, is an avowed Trekkie who cut his teeth on other films and TV shows before he got involved as a writer and producer on the JJ Abrams reboot. At the time, the fact that he was a fan of the franchise was often contrasted with the non-fan status of his writing partner, Alex Kurtzman, as a way of demonstrating that the Abrams films would try to appeal to both Trekkies and non-Trekkies.
Orci and Kurtzman have been involved in a number of other big-budget films along the way, starting with The Island (2005) and The Legend of Zorro (2005) and continuing through Mission: Impossible III (2006), the first two Transformers films (2007-2009), Cowboys & Aliens (2011) and The Amazing Spider-Man 2 (2014).
Orci has also been somewhat controversial for being a so-called "truther", and for allowing his belief that the 9/11 attacks were an "inside job" to influence his depiction of the rebooted Star Trek universe, especially in the most recent film.
So whatever else one might say, odds are good that Orci has a very clear idea as to where he wants to take this franchise — and odds are good that it could be just as big, splashy and frustrating as the last few Star Trek films have been.
May 14 update: Variety says Orci definitely has the gig now.