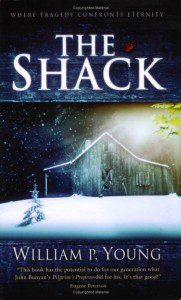 A few months ago it was announced that Forest Whitaker was in talks to direct and star in an adaptation of The Shack, the best-selling book about a man who loses his daughter to a serial killer and then spends a weekend discussing the problem of evil with God.
Now The Tracking Board reports that Idris Elba has been offered a lead role in the film, and that Oprah Winfrey might also be in the mix. Since God appears in the book as an African-American woman, it is not surprising that some people have assumed that Oprah will be playing God.
The bigger question is who Elba will be playing. I have not read The Shack, but friends of mine who have tell me that one of the key themes in the book is how the white male protagonist learns to accept that God can appear to him as something other than a white man like him. That theme could be muted somewhat if the protagonist is a black person just like God.
The Tracking Board also reveals that the script, originally credited to John Fusco, is now being worked on by Tom Shadyac, the director who cast Morgan Freeman as God in Bruce Almighty (2003) and Evan Almighty (2007), and who recently documented his own personal spiritual crisis in a documentary called I Am (2010).
The Shack will reportedly start shooting in Vancouver or Atlanta this summer.
Incidentally, Tambay A. Obenson at Shadow & Act responded to this news by saying, "I thought about how many times I'd seen or heard God portrayed as an African American woman in any previous films, but I couldn't immediately think of any."
I can think of one, actually: Whoopi Goldberg in It's a Very Merry Muppet Christmas Movie (2002). Technically, she's "The Boss" in that film. But you get the idea.