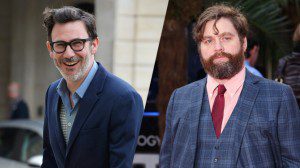 How long have I been blogging now? Long enough that I'm still posting updates on projects that I first mentioned here eight years ago.
In November 2006, Darren Aronofsky first revealed that he wanted to make a biblical epic, and while he didn't say what it was at the time, we all know it now as Noah.
Similarly — and going back even further — in March 2006 a writer named Demetri Martin sold a pitch for a TV show called Will, which was going to centre "on an ordinary guy who lives in a world where people's lives and destinies are being written by scribes in Heaven. The man wakes up one day to find that his heavenly writer has decided to no longer draft his life, and he must go about his day unscripted."
And now… well, the actors who were going to turn the TV show into a movie four years ago, and the director who joined them two years ago, are still talking about making it!
Michel Hazanavicius, who won an Oscar for directing The Artist (2011), is unveiling his newest film, The Search, at the Cannes film festival this week, and along the way he told Variety that he still plans to make Will next, with Paul Rudd as the title character and Zach Galifianakis as Will's "rebellious guardian angel".
Hazanavicius expects to start filming the movie within the next year, so who knows, they might get this film done before an entire decade has passed.
Which reminds me, I first heard about the remake of The Secret Life of Walter Mitty in March 2003, and it finally came out five months ago…