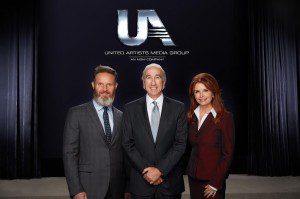 1. First Mark Burnett and Roma Downey partnered with MGM (and Paramount) on producing the next big-screen version of Ben-Hur. Now the trades are reporting that MGM has bought a majority stake in the production companies run by Burnett and Downey — and, thus, a majority stake in their Bible-themed projects (as well as Burnett's reality-TV shows, etc.).
Along the way, the trades mention that Burnett and Downey have started principal photography on A.D., their follow-up to The Bible, and that they could not be reached for additional comment because they are currently working on A.D. overseas.
So, that series is actually happening, then. I guess it's only a matter of time until it gets an IMDb page, or until we learn who has actually been cast in the series.
2. Speaking of Ben-Hur, Coming Soon got a brief quote about it from co-writer John Ridley while he was promoting another movie. Ridley doesn't say much about the film, except to say that the filmmakers "went back to the Lew Wallace novel and really excavated the relationship between the two main characters, Ben-Hur and Messala."
3. A double-bill of Salomé and Wilde Salomé — the two Al Pacino films based on Oscar Wilde's play about Herod Antipas's stepdaughter and her, uh, unhealthy obsession with John the Baptist — played in the UK over the weekend, and co-stars Pacino and Jessica Chastain sat down for a Q&A with Stephen Fry afterwards. You can read all about it at The Hollywood Reporter and Thompson on Hollywood.