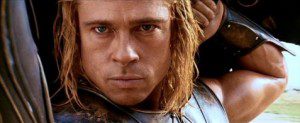 Almost two years after it was first announced that Brad Pitt might star in a movie about Pontius Pilate for Warner Brothers, Deadline is reporting that neither Pitt nor Warner are attached to the project any more — but the film may still get made by one of the "several financiers" who are "chasing" it.
At the moment, former Warner executive Jeff Robinov seems to have the edge.
The film, if it gets made, will go well beyond the biblical account of Pilate's interaction with Jesus to include information from other historical sources as well as some plain old fiction, and it could end up being more like an episode of HBO's Rome, with some of the sex and violence that that implies, than a typical Bible movie.
Nevertheless, at least some Christians in Hollywood are giving the film their support. The Wall Street Journal reported back in March that a Hollywood prayer group had asked its members to pray that Pitt would have "the wisdom to take the role."
Pitt ended up not taking the role, but perhaps someone else will. We shall see.