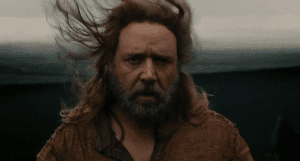 Noah may have been snubbed when it comes to visual effects, but today the Academy announced that Darren Aronofsky's Bible movie is one of seven films that made the shortlist for the Oscar for Best Makeup & Hairstyling.
The other six films are The Amazing Spider-Man 2, Foxcatcher, The Grand Budapest Hotel, Guardians of the Galaxy, Maleficent and The Theory of Everything. Three of these films will advance to the next round when the Oscar nominations are announced January 15.
Note: while one of the year's big Bible movies made the cut, the other — Exodus: Gods and Kings — did not, despite all the guyliner worn by the Egyptians and the various haircuts that Christian Bale sports at different stages on Moses' journey.
The iTunes and exclusive Target editions of Noah included a featurette called 'Special Makeup FX on Noah' which looked not just at the human makeup but at the various animatronic animals that were created for the film. I wonder if the Academy took those animals into account or is limiting its focus to the human stuff.
In any case, here are some excerpts from that featurette; the complete featurette is about 10 minutes long, and these excerpts add up to almost 6 minutes:
January 9 update: Variety has a short blurb on the Noah make-up crew:
"Noah" artisans include makeup department head Judy Chin, makeup effects topper Adrien Morot and hair department chief Jerry Popolis. Morot curated Hopkins' scraggly look, advancing him through several stages of aging. He also did makeup for the warrior played by Ray Winstone.

To his surprise, Morot ended up handling the film's creature designs as well. "I assumed all the animals would be computer-generated," he says. "But (director) Darren (Aronofsky) said, 'OK, Adrien, you're building all the animals in the ark. We'll help you. We'll put some bales of hay in there.' It was insane. I don't think any one movie has required so many animals or creatures."
If I find any more interviews with Morot & co., I will add them to this post.
January 27 update: Make-Up Artist Magazine has the ten-minute video that Judy Chin, Adrien Morot and Jerry Popolis submitted to the Academy, in which they discuss the various make-up techniques that they used on the various characters.