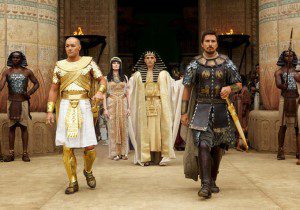 It looks like the most expensive Bible movie of the year will have the smallest first weekend of the bunch, at least in North America.
Exodus: Gods and Kings, which reportedly cost $140 million to make, is estimated to have earned about $24.5 million this weekend — which is slightly less than the $25.6 million that Son of God, a repackaged TV show, opened to in February. It is also just a little more than half the $43.7 million that Noah, which cost $125 million to make, opened to in March. And Exodus owes 44% of its box-office take to higher-priced 3D screenings, whereas Noah and Son of God were released in 2D only on this continent.
Interestingly, despite the controversy over the film's "whitewashing" of its main characters, Variety reports that "the film played particularly well to Hispanic and African-American moviegoers, who made up 18% and 20% of the crowd, respectively." Hispanics and African-Americans make up roughly 17% and 14% of the general population in the United States, respectively, and much much less in Canada. (The North American box-office figures take both countries into account.)
As I mentioned on Friday, this marks the seventh-best wide opening for both director Ridley Scott and co-star Christian Bale — though in Bale's case, you could argue that this represents his best non-franchise opening in the lead, since all the films of his that did better were sequels (Terminator Salvation), reboots (the Dark Knight trilogy), animated (Pocahontas) or gave him second billing (Public Enemies).
Exodus may have suffered in part because of bad reviews; the film currently has a Rotten Tomatoes score of only 28%, which is the second-lowest of director Ridley Scott's career. (His lowest is 25% for A Good Year.) That's also well, well below the 77% that Noah has, though it's a bit ahead of the 21% that Son of God got.
The film also got a B- from Cinemascore, which is slightly better than the C that Noah got but not by much — and, although this is just speculation on my part, it might reflect a more broad dissatisfaction with the film, rather than a sharp division between those who loved the film and those who hated it, as was the case with Noah.
Overseas, Exodus has earned about $50 million so far, which matches the $51 million that Noah had earned overseas at this point in its release. (Son of God, for its part, barely made a ripple overseas, earning only $8.1 million in total.)
Movies that open in December tend to have better legs than movies that open at other times of the year, thanks to the holidays. So it's too early to write this film off. The real question is what sort of drop-off the film have in its second week, when the next installments in the Hobbit and Night at the Museum franchises come out.