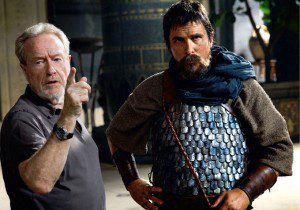 The Hollywood Reporter says Exodus: Gods and Kings may gross between $25 million and $30 million when it opens in North America this weekend.
That would be slightly ahead of the $25.6 million that Son of God opened to in February, but considerably behind the $43.7 million that Noah opened to in March — but movies that open in December tend to stay afloat over the holidays, so Exodus could still be the year's biggest Bible movie when all is said and done. (The Prince of Egypt, to cite one precedent, opened in December 1998 to only $14.5 million and still grossed $101.4 million in total — which is slightly more than Noah made in North America.)
To look at this another way: Son of God opened to $25.6 million and grossed $59.7 million in total, and Noah opened to $43.7 million and grossed $101.2 million in total, so both films made about 2.3 times their opening — but there is good reason to believe that a film released just before Christmas can have a bigger multiple than that.
An opening of over $25 million would give this film the sixth- or seventh-best opening of
Ridley Scott's career
. The top five, all of which opened to more than $34 million, include two sequels (
Hannibal
,
Prometheus
) and three Russell Crowe movies (
American Gangster
,
Robin Hood
,
Gladiator
). A sixth film,
Black Hawk Down
, opened in limited release but then earned $28.6 million in its first weekend of wide release. The other fifteen films directed by Scott all opened to less than $20 million.
An opening of over $25 million would also give this film the fifth- or sixth-best opening of Christian Bale's career, or possibly even the seventh-best, behind the three Batman movies, the Terminator movie, and possibly Public Enemies (which opened to $25.3 million in 2009). The animated film Pocahontas, which opened in limited release, also earned $29.5 million in its first weekend of wide release.