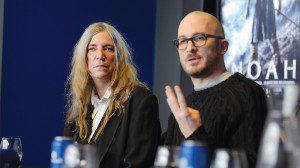 I've never paid much attention to the Golden Globes, but it's worth noting that they announced their nominees today, and one of the lucky contenders is Patti Smith for her song 'Mercy Is', which plays over the closing credits of Noah.
Other than that, the Golden Globes basically ignored the year's Bible-movie revival — but the Globes only offer awards for acting, directing, writing and music, and no one was seriously pushing Noah or Exodus: Gods and Kings in any of those categories except for music. It's still possible that those two films will be recognized for their production design, costumes, sound editing and whatnot when the Oscar nominations are announced January 15. And maybe one of their composers will get a nod, too. We shall see.
In the meantime, here is how Smith responded to the news of her nomination:
"I'm preparing to sing in the Vatican Christmas concert that's televised in Italy. I'll be rehearsing with the Vatican orchestra. That's how I'll be celebrating."
The winner of the Golden Globe will be announced January 11. Until then, Smith's competitors are: 'Big Eyes', from Big Eyes; 'Glory', from Selma; 'Opportunity', from Annie; and 'Yellow Flicker Beat', from The Hunger Games: Mockingjay Part 1.
You can read more about Smith's award-seasons campaign here.