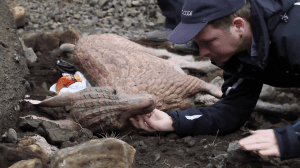 The most controversial Bible epic of the year — so far — Noah came out on Digital HD today and is now available for purchase through several different streaming services.
As far as I can tell, none of these services include any bonus features except for iTunes — but the bonus features included with the iTunes package are not identical to the bonus features that have been advertised for the upcoming Blu-Ray.
The Blu-Ray will include three featurettes totaling over an hour, on 'Iceland: Extreme Beauty', 'The Ark Exterior: A Battle for 300 Cubits' and 'The Ark Interior: Animals Two By Two'. The iTunes release comes with the first two featurettes but replaces the third with 'Special Makeup FX on Noah,' which just happens to be one of the featurettes that is rumoured to be on the exclusive Target edition of the Blu-Ray. The iTunes featurettes add up to almost 51 minutes of bonus content.
To mark the film's digital release, Paramount released at least two exclusive clips to two websites today — and I have no idea at this point if these clips are taken from any of the existing bonus features, or if they are unique to these websites.
First, here is the clip that was posted on Hitfix, in which cinematographer Matthew Libatique talks about the "nightmare" of filming a battle scene in the rain:
And second, here is the clip that was posted on CraveOnline, in which the special-effects guys talk about some of the animal puppets that were created for the film — including a "hound" that was eventually replaced or enhanced by a CG effect:
If I find any more new making-of clips, I will add them to this post.
Incidentally, that last video reminds me of two videos that were posted by special-effects veterans Alec Gillis and Tom Woodruff Jr last month, in which they addressed the question of why filmmakers often start out with practical effects, only to replace them with computer-generated effects later on. Here's the short version:
And here's the long version:
Update: I just noticed that Paramount also posted the following clip to YouTube today, which presumably comes from the 'Ark Interior' featurette:
July 16 update: USA Today posted a clip today on the "brutalist" design of the Ark, which appears to come from the 'Ark Exterior' featurette:
July 17 update: Collider also has this clip on the film's rain machine:
Check out earlier Noah videos and my shot-by-shot trailer analyses here: