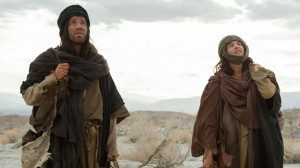 The film won't premiere at Sundance for another 13 days, but Christianity Today's Alissa Wilkinson posted an exclusive interview tonight with Last Days in the Desert director Rodrigo Garcia and his star Ewan McGregor, who plays both Jesus and Satan in the low-budget film — and along the way, she offers a few review-ish opinions of the film itself, all of them positive.
Among the more interesting tidbits:
The script was only 60 pages, much shorter than the usual 120. (The rule of thumb in Hollywood is that one page of script usually equals about one minute of screentime. In this case, the finished film is 98 minutes long.)
McGregor says he has "never felt like a film was as important as this one for a long, long time. I was so moved by it, and so immediately passionate and connected to it."
Jesus is called "Yeshua" in the film because Garcia found the "weight" of the name Jesus "paralyzing", at least when working in the English language. (In Garcia's native Spanish, many people are named Jesus.)
The Jesus of this film, says Wilkinson, is "confident in his identity as the son of God while also struggling and being tempted by everything that a man would find tempting: hunger, exhaustion, loneliness, anger, lust, fear."
Jesus "works hard to connect with his hosts" — i.e. the family in crisis played by Ciaran Hinds, Ayelet Zurer and Tye Sheridan — "as friends."
Satan looks like Jesus but wears some jewelry, "just to underscore some vanity," says Garcia. "Like he was like, 'I'm going to dress as you, but with style.'"

Garcia conceived Satan as "the black sheep, the punished child. It makes you feel [like] these two are (at least metaphorical) children of a father whose opinion counts a lot to them. That's any child, really."
There isn't much music in the movie, but it has a "gorgeously minimalist classical score" by Danny Bensi & Saunder Jurriaans (The One I Love, Enemy).
Wilkinson says the film tells "a warm, generous, and unexpected story, much like Yeshua himself."
You can read the whole article — and see a few new pictures from the film — here.