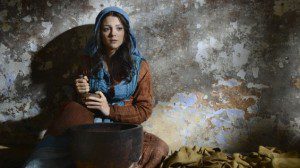 Today was a big day for news about movies and TV shows set in first-century Judea and produced (or co-produced) by Mark Burnett and Roma Downey.
1. First, Downey and several actors from The Dovekeepers met with reporters to promote their miniseries, which concerns four Jewish women who live through the Roman siege of Masada.
The presentation, which took place at the Television Critics Association's Winter TV Press Tour in Pasadena, was covered by Deadline, Variety, The Hollywood Reporter, The Wrap, the Los Angeles Times, USA Today, the Associated Press and others.
CBS also released a trailer for the miniseries, which airs March 31 and April 1:
2. Second, Sofia Black D'Elia was cast as Judah Ben-Hur's sister Tirzah in Timur Bekmambetov's upcoming remake of Ben-Hur. Two months ago there was talk of Ouija star Olivia Cooke being cast in the role, but alas, it was not to be.
D'Eila is 23 years old, while Tirzah's brother Judah is being played by 32-year-old Jack Huston and their mother is being played by 45-year-old Ayelet Zurer.
(In the 1959 movie, Judah and Tirzah were played by Charlton Heston and Cathy O'Donnell, who were both 35, and their mother was played by Martha Scott, who was 46. In the 2010 miniseries, Judah was played by Joseph Morgan, 28; Tirzah was played by Kristin Kreuk, 27; and their mother was played by Alex Kingston, 46.)
3. Finally, NBC aired a new TV spot for A.D. during the Golden Globes last night:
The series premieres April 5, i.e. Easter Sunday on the Western calendar.