Killing Jesus — the National Geographic Channel adaptation of the book by Bill O'Reilly and Martin Dugard — had its world premiere at the Sun Valley Film Festival in Idaho last Saturday. I'll have more to say about that in the near future. In the meantime, here's a quick roundup of some of the stories about this film that have appeared over the last few weeks on other blogs and websites.
The Hollywood Reporter posted a story today on the advantages of working in Morocco, the return of the biblical genre, and how these two things have dovetailed — and how the actors from different productions have socialized off the set:
Ouarzazate now plays host to three to five productions in the cooler months of the year, and, with few exceptions, castmembers almost exclusively stay at the only well-appointed hotel in town: Le Berbere Palace. The poolside scene looks like MTV Spring Break: Bethlehem, where attractive actors are liberated from their mornings and afternoons spent in ripe, unwashed robes, sharing sets with livestock. A few bronzed apostles from Killing Jesus are eager to talk about the swimsuit contest held just a few weeks earlier, when they faced off against the cast of A.D., the two actresses playing Mary Magdalene ultimately going head-to-head. "Actors have been sitting around the pool here for 30 or 40 years," says Kelsey Grammer, who plays King Herod in Killing Jesus. "Sir Ben Kingsley is here doing something, and he tells me he was filming here 30 years ago at this same hotel."

Disciples from the dueling Jesus projects typically gather by the pool for drinks before heading to one of the nearby French restaurants. "There's a lot of incest between the two casts," jokes Jesus himself, actor Sleiman, 38, who counts A.D.'s Mary Magdalene (Chipo Chung) as one of his closest friends. "This material can weigh on you, though. Sometimes I just need to be alone in my hotel room and drink some wine."
Two weeks ago, Channel Guide Magazine posted its own set-visit report, looking at how the Last Supper was filmed at a casbah in Tamnougalt. Among other things, it got some quotes from Stephen Moyer about what it was like to play Pontius Pilate:
Relaxing in his trailer, Moyer discusses Pilate's dilemma. "When he first gets to Jerusalem, he puts the emperor's face on banners, which is idolatry, so he is on a back foot from then on and needs the priests to be his conduit. One of the questions I think is interesting is when this type of story is being told, we don't know about what else was going on at the time. The story is always about Jesus, but we don't know how many other decisions Pilate was having to make, how many other councils he was taking, whether this was even important to him."
The Christian Post spoke to Haaz Sleiman, the actor who plays Jesus:
In an effort to portray a compassionate and empowering Jesus, Sleiman said he took intentional care with how he interacted with outcasts that flocked to the first century teacher, who more than 2.2 billion Christians today worship as the Son of God and savior.

"I did the scene with healing the kid that was possessed by a demon, and looking at that child a certain way, not looking at him as a weak person. Or people with leprosy, not looking at them as weak. Or people who are poor, not looking at them as weak. But rather, all of them equal, to me, to everybody else and that they're strong," Sleiman explained.

"It's a wonderful thing that I get to do this everyday that I come to set," he added. "It's what I do in my life anyways. I try to do that in my life. In fact, now I can do that in my life and at work. It's like a dream come true."
Finally, we have some new stills and posters. Most interesting of all is this painting by Sam Spratt, and the GIFs — posted by Mashable — that show how it came to be:
National Geographic has also released photos of Haaz Sleiman as Jesus …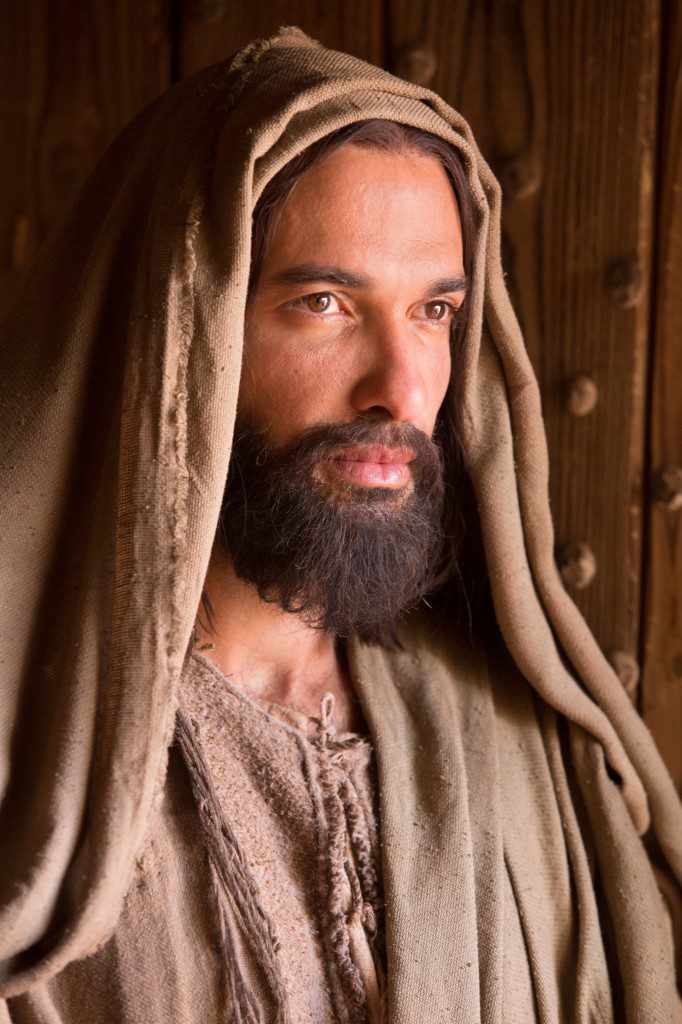 … Kelsey Grammer as Herod the Great …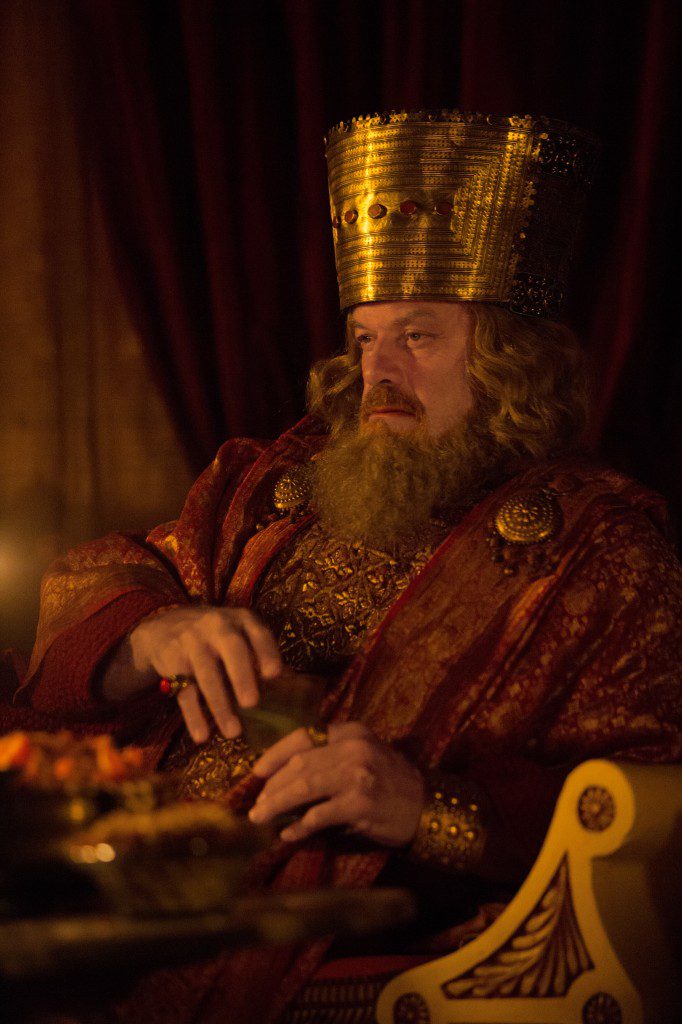 … Rufus Sewell as Caiaphas …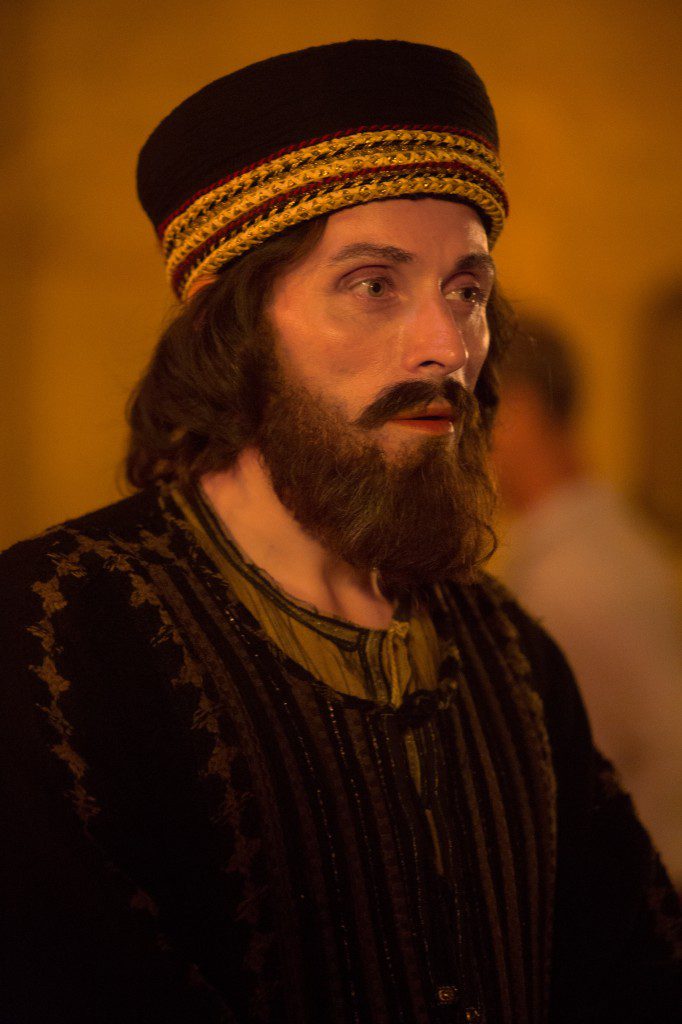 … Stephen Moyer as Pontius Pilate …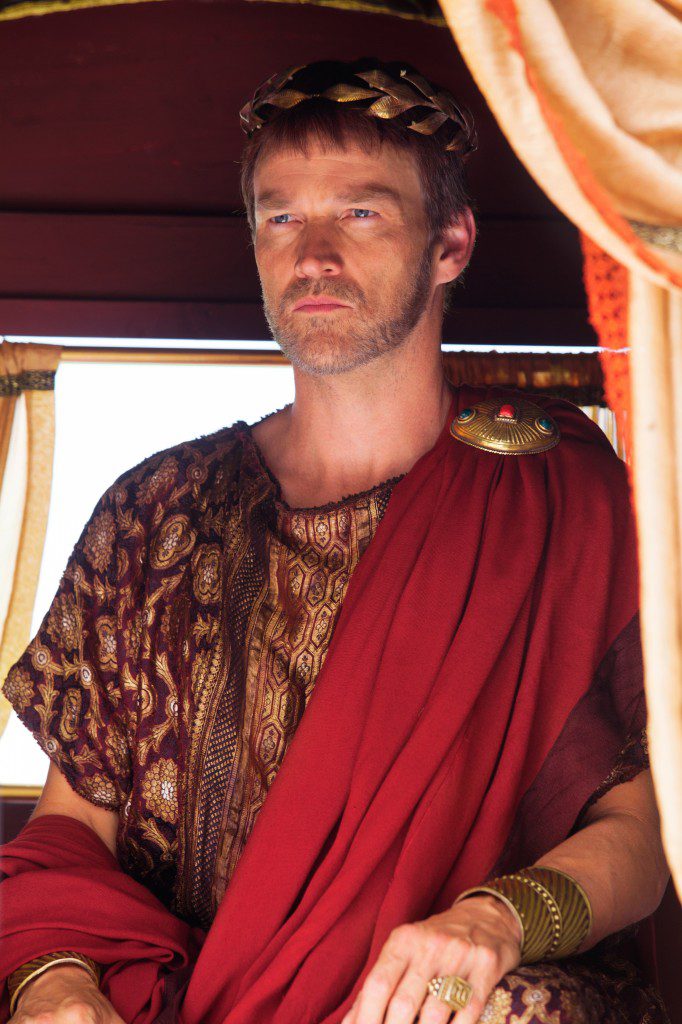 … John Rhys-Davies as Annas …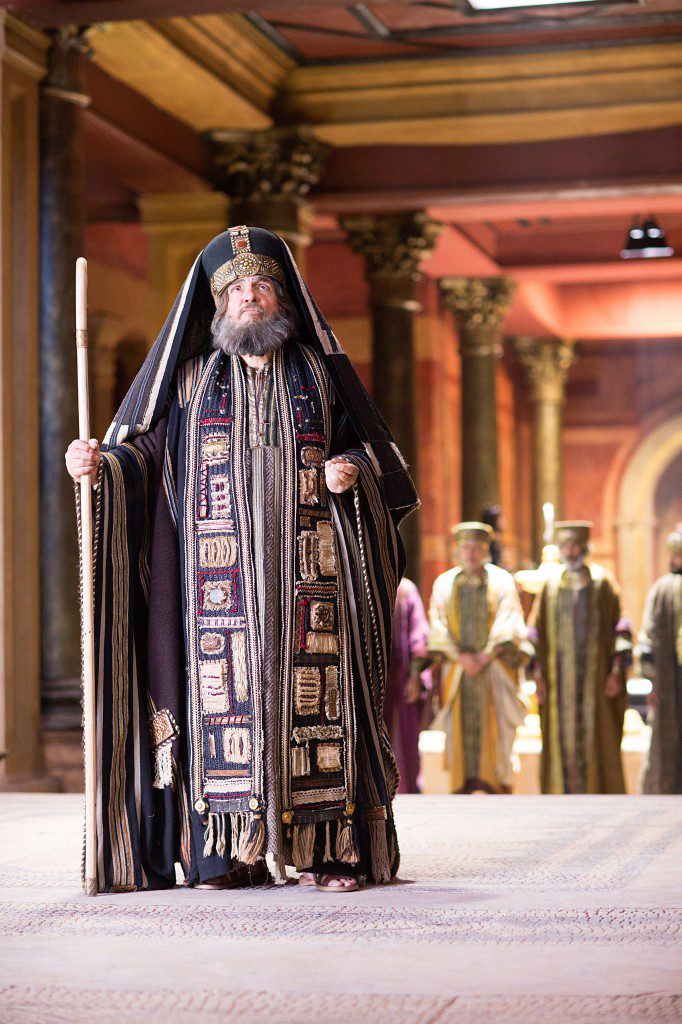 … Eoin Macken as Antipas …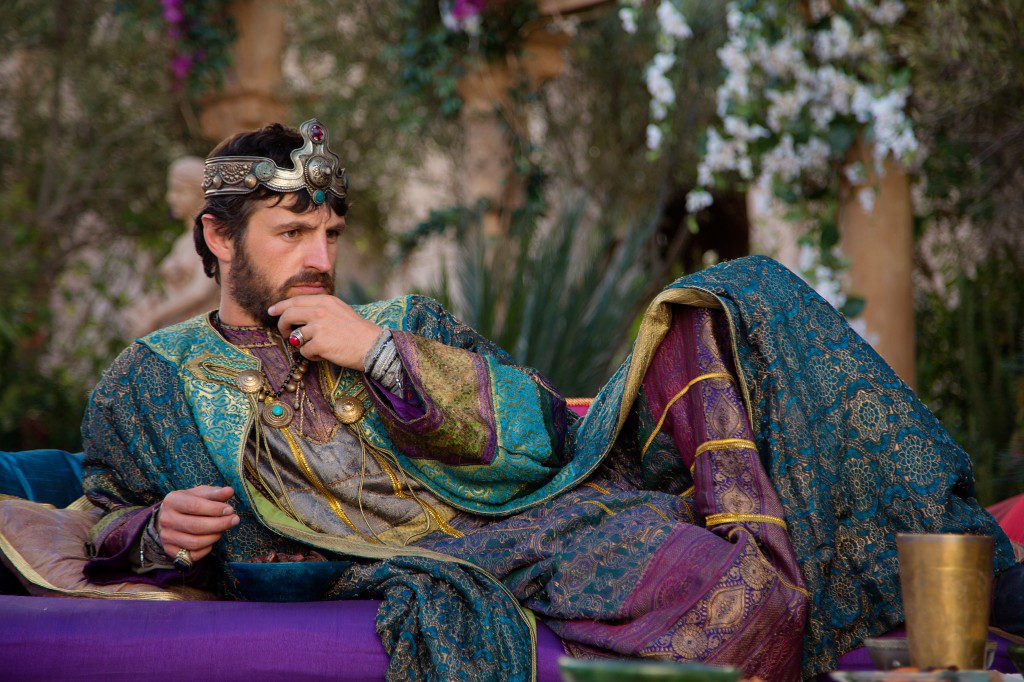 … Emmanuelle Chriqui as Herodias …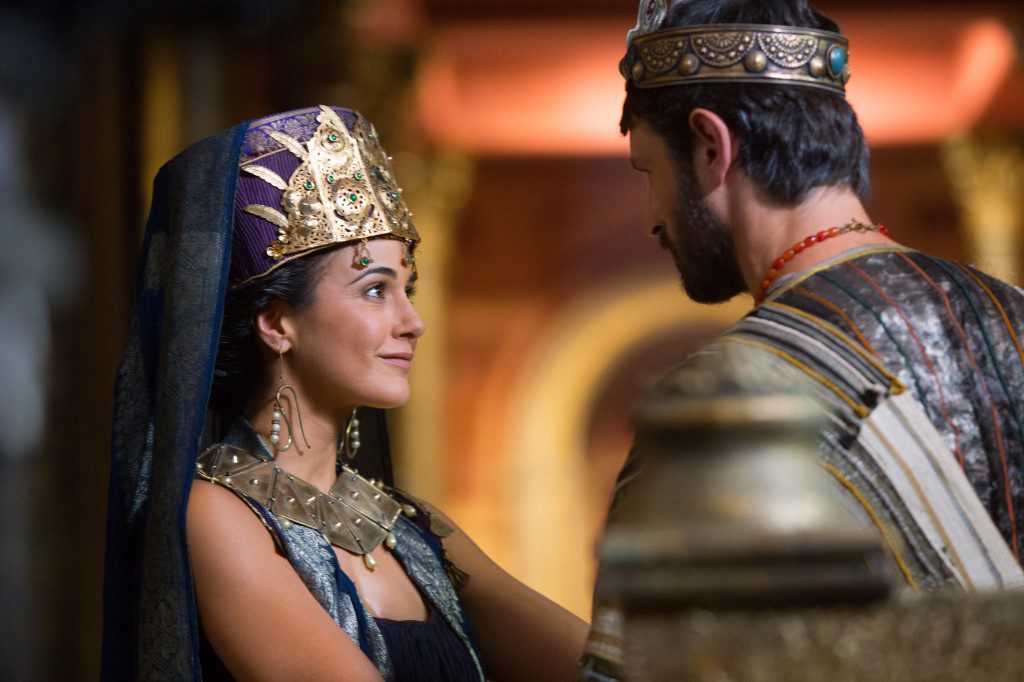 … Stephanie Leonidas as Salome …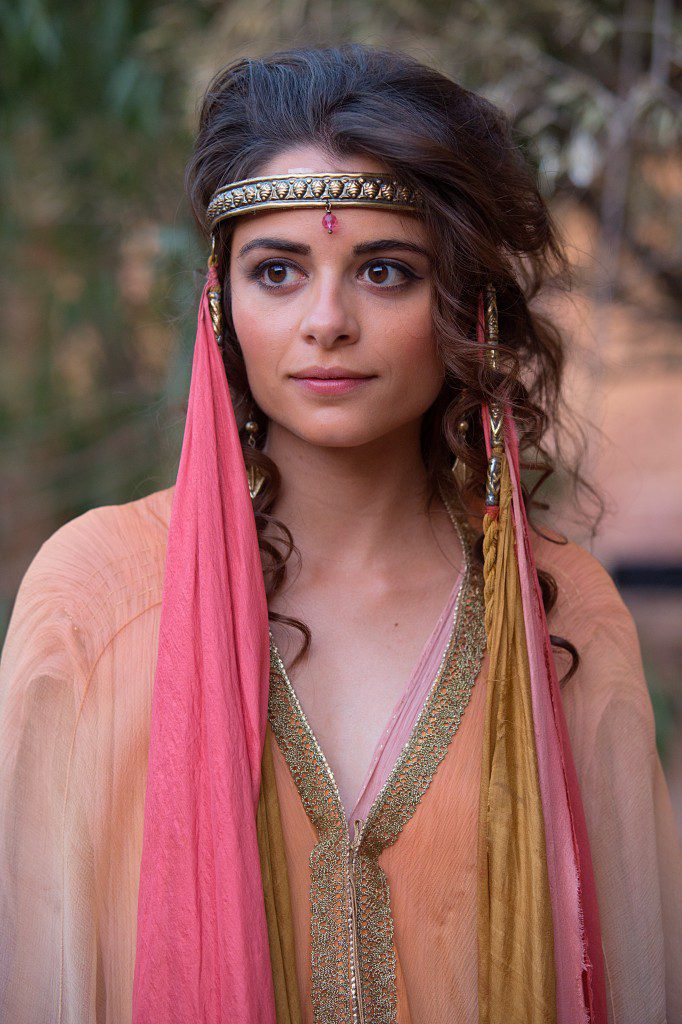 … Abhin Galeya as John the Baptist …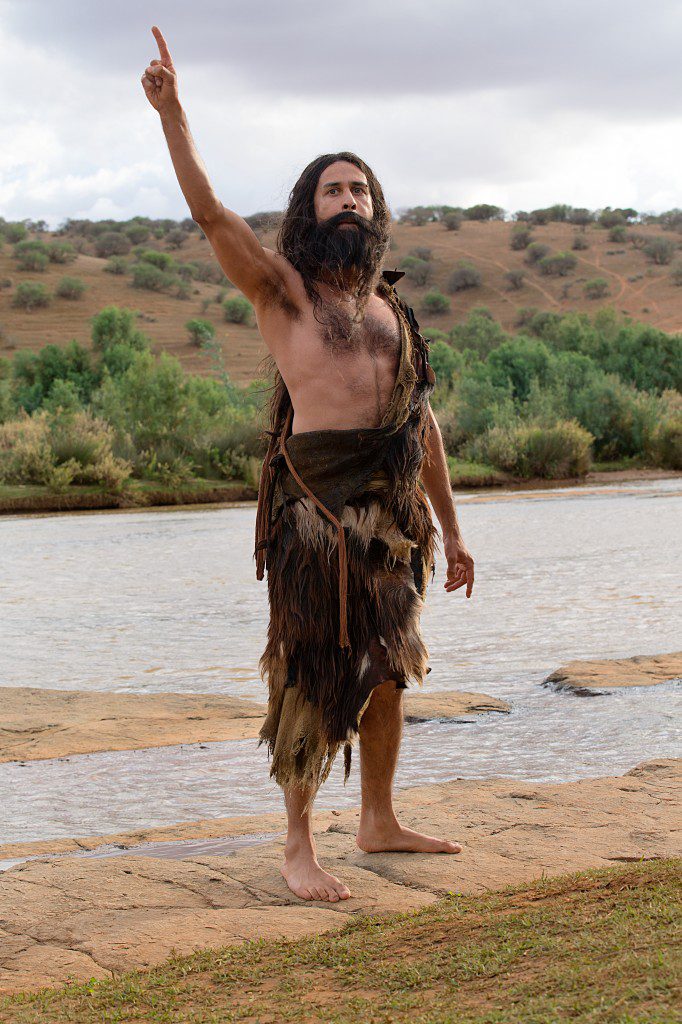 … Alexis Rodney as Simon Peter …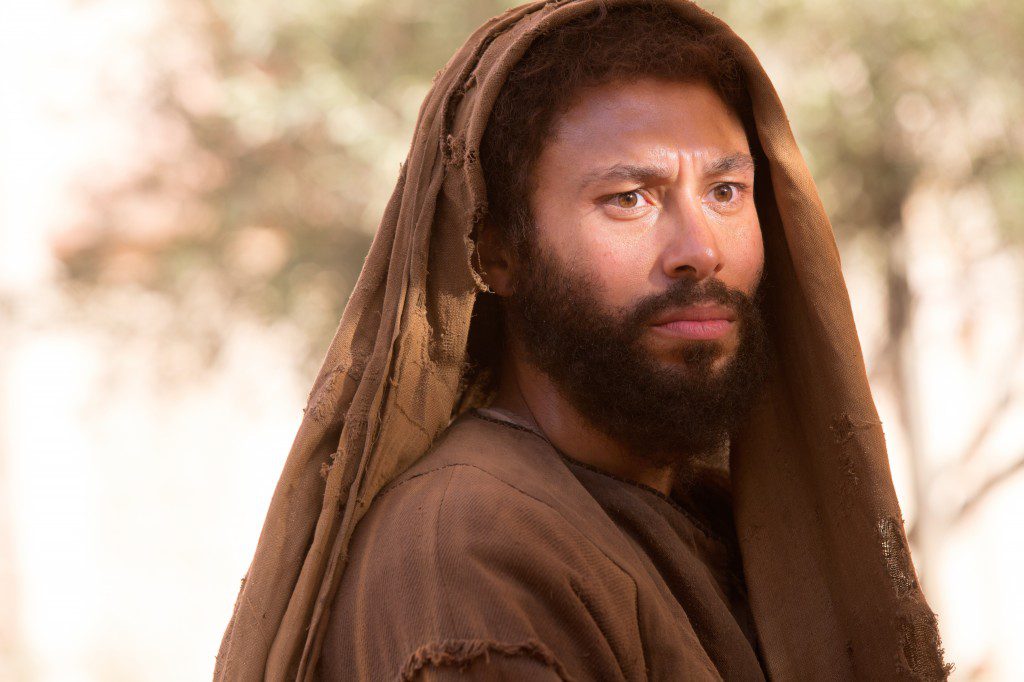 … Joe Doyle as Judas Iscariot …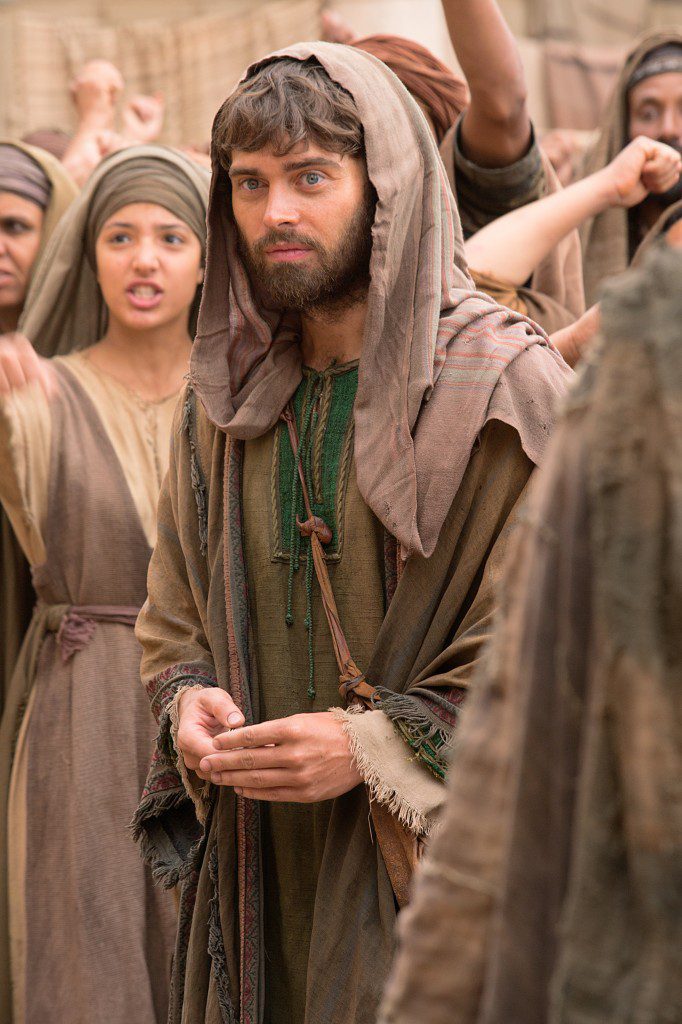 … and Dimitri Leonidas as James, an actress whose name I do not yet know as Jesus' mother Mary, Klára Issová as Mary Magdalene and Khalid Laith as John: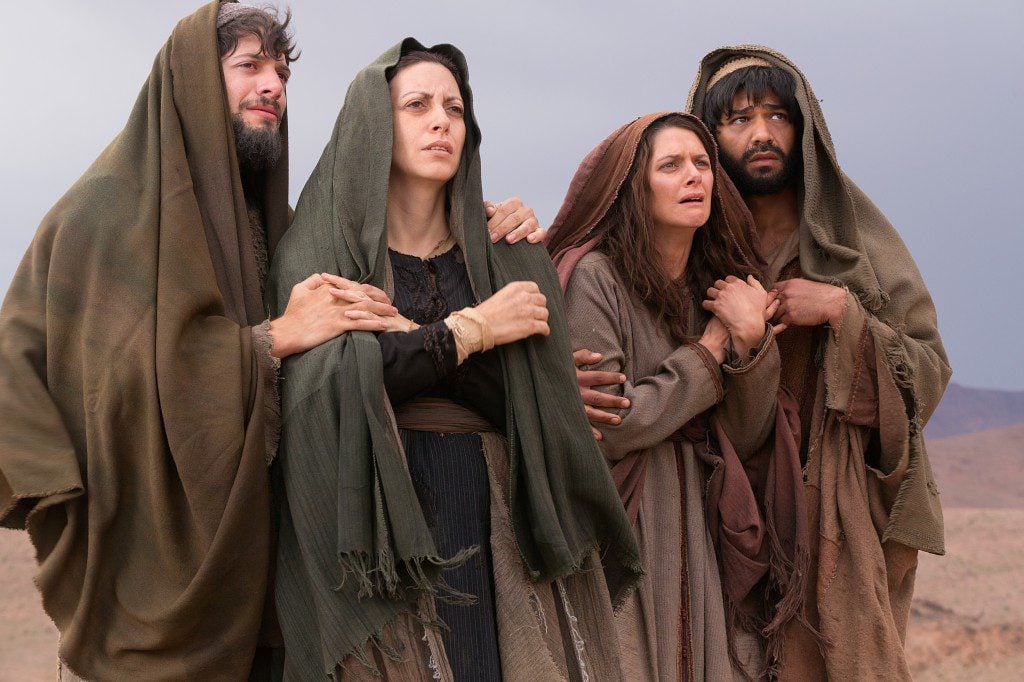 National Geographic has also posted the following images as part of its 'Killing with Kindness' series of blog posts (one | two | three | four):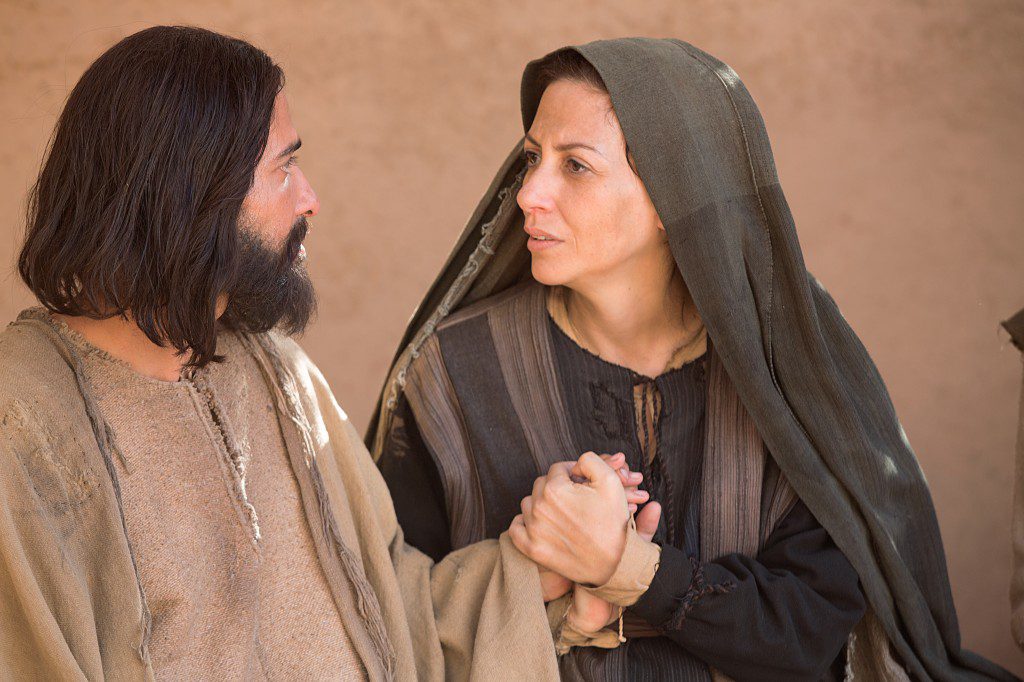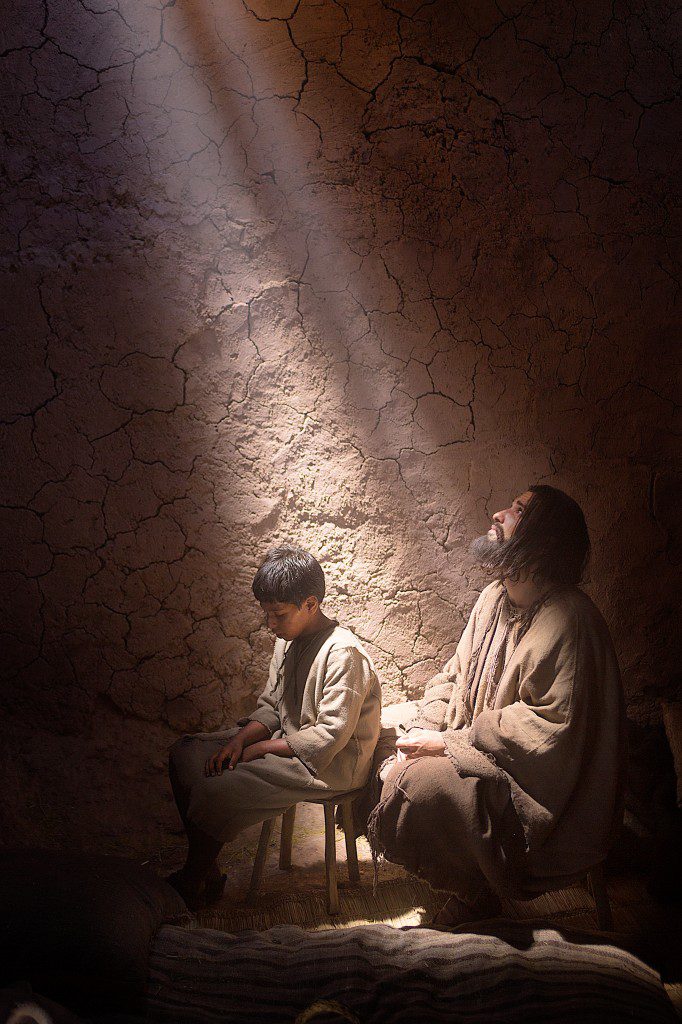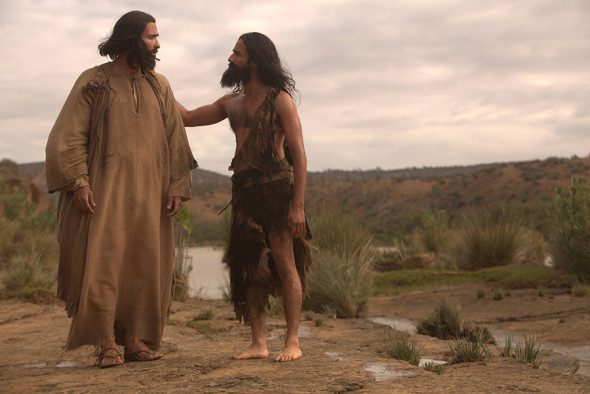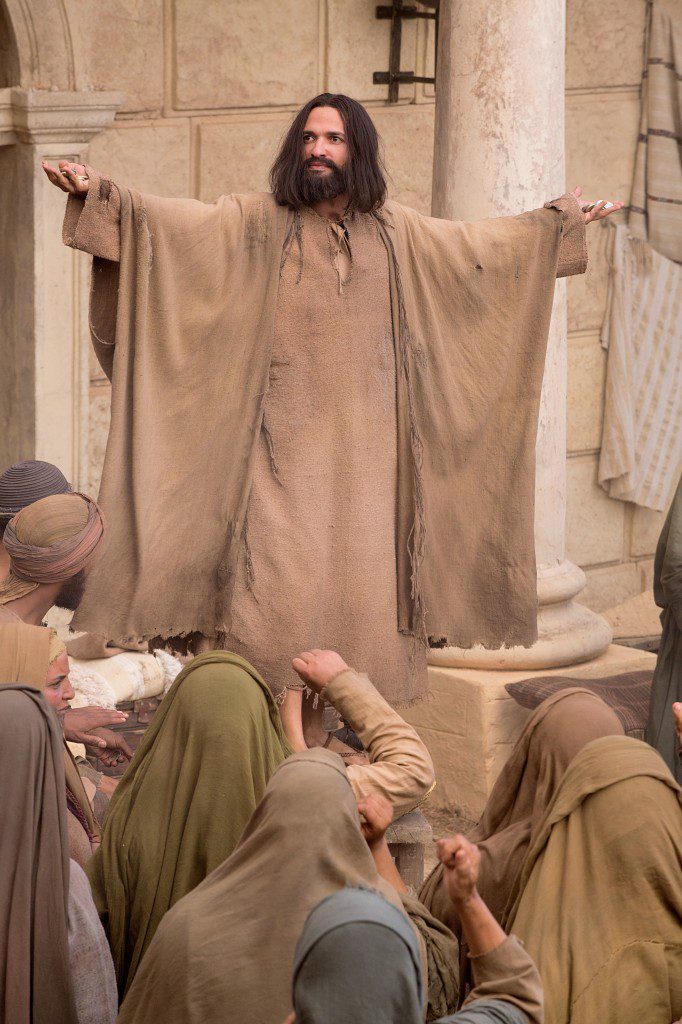 In addition, Sleiman posted this picture to his Facebook page: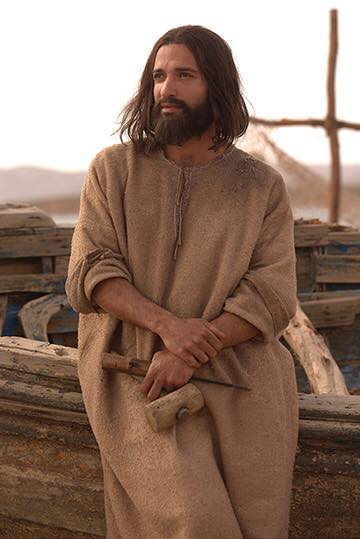 TV Line posted this picture of the crucifixion (note: Jesus is not crucified between the two thieves, but to the left of them):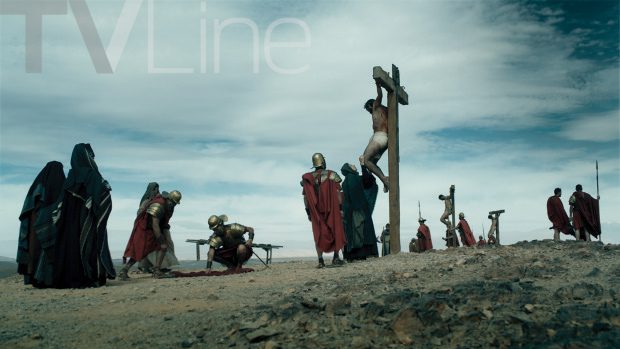 Beliefnet posted this 30-second spot for the film:
And finally, the National Geographic Channel has created an interactive website that allows you to experience the story from three different points of view: that of the Romans, that of the Jewish high priests, and that of Jesus and his followers.
For more details on the making of that website, see this story in Broadway World, as well as this collection of screencaps at Adweek. Here's a trailer for the site:
Check out earlier videos here: