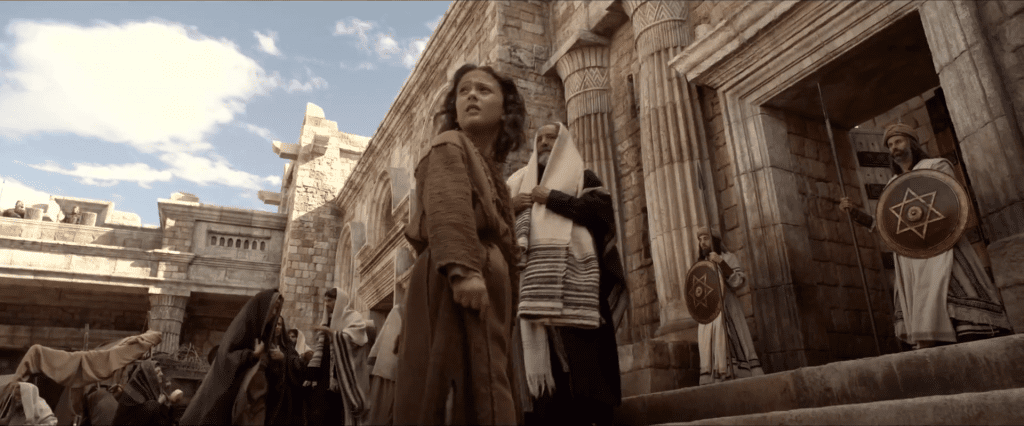 Brian Godawa, author of Hollywood Worldviews and writer of To End All Wars, has been very critical of the Bible movies coming out over the last few years.
Most famously, he wrote a scathing review of an early draft of Noah and dubbed that film's protagonist an "environmentalist wacko" while the film was still being shot, a year and a half before its release. (Click here for my response to that.)
But today he found a Bible movie to champion: The Young Messiah, based on Anne Rice's novel Christ the Lord: Out of Egypt and due for release March 11, 2016.
This time, Godawa is responding to the actual film, not just a script, and he says the film explores the dual nature of Jesus — as well as Jesus' growing awareness that he is both fully human and fully divine — with "a faithful and reverent dexterity."
In addition to an all-new subplot featuring Sean Bean's centurion, which was not part of the original novel, Godawa says the film gives Jesus "a lovable yet rascally uncle Cleopas," and it also features "a blond beautiful Robert Downey Jr.-like Satan".
The detail about Cleopas particularly intrigues me, because a man named Cleopas will also be a significant character in Risen, which comes out in January.
The biblical Cleopas was one of the two people who saw Jesus on the road to Emmaus in Luke 24. An early tradition also says that Jesus had an uncle named Cleopas, whose son Simeon became the bishop of Jerusalem after the martyrdom of Jesus' brother James. Were these two Cleopases one and the same? Could be, could be…
In any case, very few films have even acknowledged the existence of Cleopas, much less done anything with him dramatically, so it's striking to see two films do that simultaneously — not unlike how two productions earlier this year both happened to flesh out the character of Joanna. Such coincidences do happen sometimes.
Godawa also reports that director Cyrus Nowrasteh stated in a post-screening Q&A that he became a Christian — baptized and everything — over the course of making the film. That's something you don't often hear the director of a Bible movie say.
Godawa concludes that The Young Messiah is a "must see", and he urges his fellow Christians to get behind the film and see it when it opens in March.
It will be interesting to see how widely that sentiment is shared — and whether the other Jesus movies coming out next year can attract that kind of praise.
October 30 update: It turns out Cleopas won't be in Risen after all. The scenes he had in an earlier version of the script have now been given to Bartholomew.