This is a year for Bible-movie anniversaries. Intolerance turned 100 last month, The Bible: In the Beginning… turns 50 on Wednesday, and The Nativity Story turns 10 in December. But the most significant Bible movie celebrating the end of yet another decade on our screens would have to be the second and most famous version of The Ten Commandments, which premiered 60 years ago in the fall of 1956.
I'm not sure about the film's exact release date right now because the film's Wikipedia page gives both October 5 and November 8 as the premiere dates. (The IMDb goes with October 5.) Either way, the actual anniversary is coming up soon, and I figured I should note it here, partly because of two items that recently came my way.
First, Intrada has a massive new six-disc soundtrack collection that includes:
The complete score with all the cues from the film (2:30:53)
Alternate and unused cues (32:54)
Additional cues (11:01)
Elmer Bernstein's original piano theme demos (12:36)
The original mono 1957 soundtrack album (60:44)
The original stereo 1960 soundtrack album (59:56)
The original stereo 1966 re-recorded album (29:14)
An illustrated 60-page booklet with album-cover reproductions and more
And second,
The Hollywood Reporter
has some exclusive photos from the set of the film that were taken by Yul Brynner, who plays the villainous Pharaoh Rameses.
And what have I written about the film in the past, you ask? Well, for starters:
And there's more, which you can find at this blog via the Ten Commandments tag.
Finally, about that Intrada soundtrack collection… here's a picture to make you drool: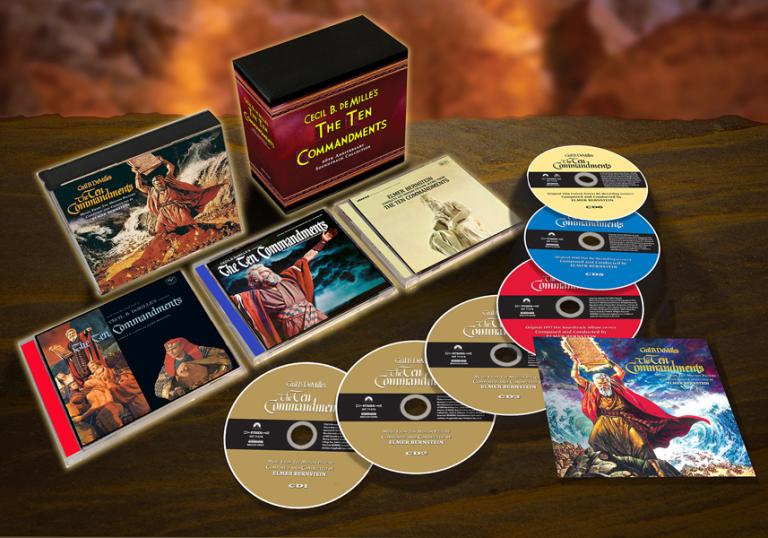 You can get a better look at the booklet covers at the Intrada website. Check 'em out.