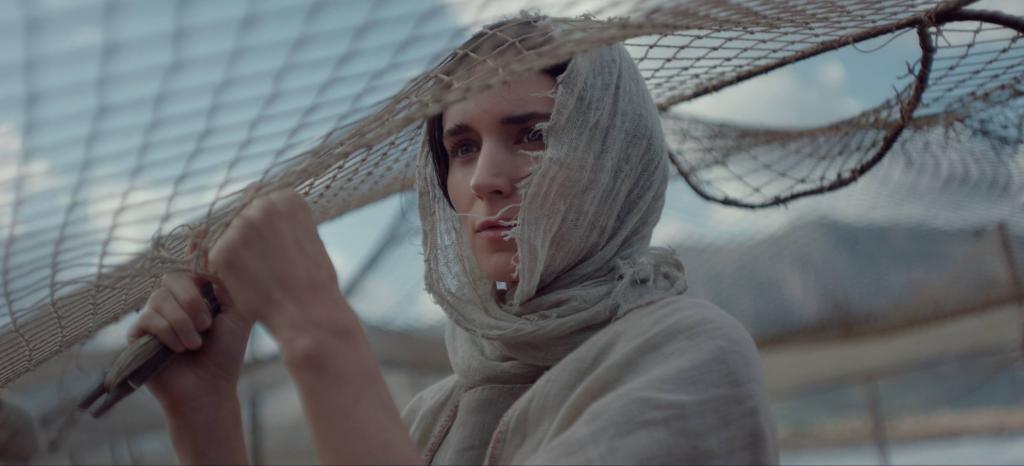 We almost got to see Mary Magdalene last week. The film, which stars Joaquin Phoenix as Jesus and Rooney Mara as his most famous female disciple, was originally going to come to theatres last Friday — but then, in August, it got bumped to March of next year.
So, we haven't seen the actual movie yet. But today, in lieu of the film, we did get our first (official) look at Mara as the movie's title character. That's it at the top of this post.
And it sounds like we might not have to wait much longer to see some actual footage from the film. One of the co-producers tweeted that a trailer will drop this Wednesday:
Here's a first look at Rooney Mara in Garth Davis's Film4-backed drama Mary Magdalene. Trailer coming Wednesday… pic.twitter.com/y5wrcPPsh0

— Film4 (@Film4) November 27, 2017
This, of course, is not the first photo of any sort that we have seen which shows us what Mara's Magdalene looks like. Last year several photos were leaked from the set:
Joaquin Phoenix is working his acting chops in latest role — Jesus https://t.co/VewVIv8ALP pic.twitter.com/vG3ogLgrzx

— Daily Mail Celebrity (@DailyMailCeleb) November 22, 2016
Rooney Mara smoking a cigarette as "Jesus" hangs on the cross in between takes is now my favorite Rooney Mara performance of all time pic.twitter.com/P1SGSDoMGN

— Jarett Wieselman (@JarettSays) November 23, 2016
Mary Magdalene comes to the UK on March 16 and to North America on March 30.
November 28 update: An earlier version of this post stated — based on statements at Wikipedia, SlashFilm and other websites — that Mary Magdalene was now being released in North America by Sony Pictures, after being let go by the scandal-plagued Weinstein Company. These statements do not seem to be true, however.
A publicist sent me a statement today from Rich Peluso, executive vice president of Sony's "faith-based" branch Affirm Films, which says: "AFFIRM Films is not connected to the MARY MAGDALENE movie, and I heard from our studio chairman that to his knowledge no one else at Sony Pictures Entertainment is either."
Wikipedia does not offer a source for its claim that Sony took over distribution, and I note that the film is still listed as a Weinstein release over at the IMDb.
So it seems that, until further notice, The Weinstein Company is still responsible for the film's North American release. But because the company is in such chaos right now, it doesn't seem likely that the film will make its North American release date.
It could be that the foreign distributors are going ahead without the Weinsteins, and that the trailer popping tomorrow is for the film's foreign release only. We shall see.