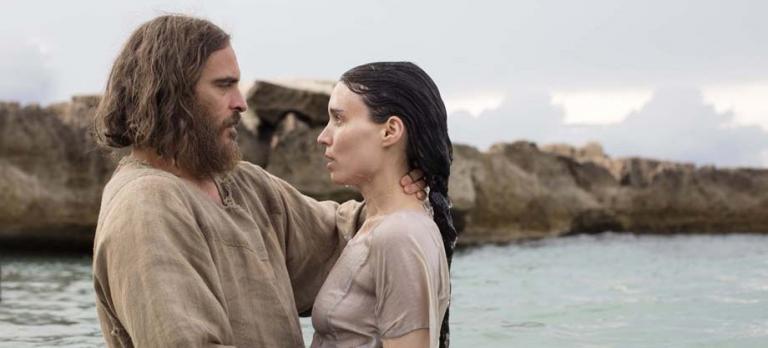 Two quick items about the upcoming film Mary Magdalene, which stars Rooney Mara as the title character, Chiwetel Ejiofor as Peter and Joaquin Phoenix as Jesus.
First, the Dublin International Film Festival announced this week that it will host a gala screening of the film on February 28 — and that it will be attended by Mara, Phoenix and director Garth Davis (whose last film was the Oscar-nominated Lion).
Meanwhile, The Jordan Times reports that some of the costumes for the film were made with the help of over two dozen Palestinian refugees:
AMMAN — The creations of 27 Palestinian craftswomen from Jerash camp will be featured in the Universal Pictures' film "Mary Magdalene", an international production featuring world famous Rooney Mara and Joaquin Phoenix.

"We are so honoured to see the work of these 27 SEP artists being featured in this movie, which is a rendition of a story that took place in the land where their own ancestors lived," said Roberta Ventura, founder of SEP Jordan, an organisation that empowers Palestinian refugee women through the creation of hand-embroidered accessories.

Started in 2013 with 10 women under the motto "Every Stitch Tells a Story", SEP Jordan has grown to help some 300 women regain a sustainable income and improve their and their families' living conditions. . . .

"It was an incredibly rewarding experience working with the team of artists at SEP – their talent far surpassed my expectations… the result of each woman's unique creativity and skill had an incredible subtlety and beauty," said Jacqueline Durran, costume designer in the Mary Magdalena movie.

Durran, who is an Academy Award Winner designer, added: "The work had a quality that we couldn't have found anywhere else, and it became a key part of our creation of the ancient world of the film."
The Jerusalem Post builds on that story and notes that there are also many Israeli actors in the film, which was shot in Italy:
Hadas Yaron, best known for her roles in Fill the Void and Shtisel, and Shira Haas, who also appeared in Shtisel as well as Foxtrot and The Zookeeper's Wife, both make appearances in the movie. The film also features Lior Raz, the co-creator and star of Fauda, and Tzahi Halevi, who has also been seen in Fauda as well as Hamidrasha. Zohar Strauss, from Srugim and Shtisel, and Uri Gavriel, from Lihiyot Ita and Fauda will also be seen on screen.
Mary Magdalene is coming to European theatres on March 16, and to Australian theatres on March 22. Its North American release date is currently up in the air.