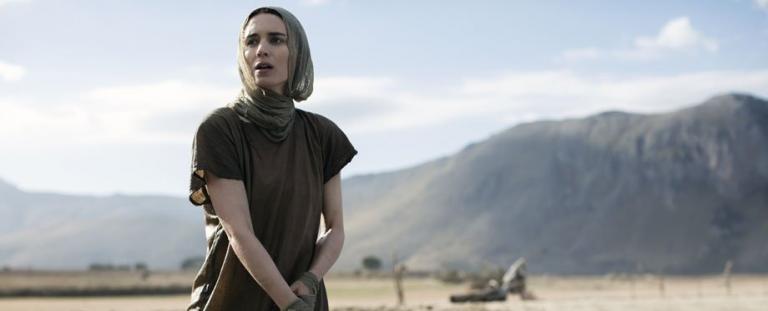 Here are four quick items about upcoming Jesus-themed films and TV shows.
1. Baz Bamigboye has apparently seen Mary Magdalene, which opens in the UK on March 16 (its North American release is currently in limbo), and he likes what he sees. The Daily Mail columnist also spoke to two of the film's producers:
'There's no evidence in the Bible that Mary was a prostitute,' insisted Iain Canning, who produced the film with Emile Sherman, his partner at See-Saw Films. 'We wanted to set the record straight — and about time,' Canning added. The project got going when Katherine Bridle, head of development at See-Saw, was tasked with coming up with ideas for films led by women. Her list of historical female figures happened to include Mary Magdalene. Canning added: 'I think so often in film-making, women are defined by their sexual relationship with a man and we decided that we were absolutely clear that wasn't the case here.'
Of course, this wouldn't be the first film that steers clear of the western tradition that Mary Magdalene was a prostitute — The Bible and its spin-offs definitely steered clear of it too — but still, it's good to see that other filmmakers are following their lead.
And it sounds like this film might also steer clear of The Da Vinci Code-style theories about Jesus's sex life. It sounds like the connection between Jesus and Mary Magdalene in this film will be more spiritual than anything else. Here's hoping!
2. Jim Caviezel, in the course of promoting Paul, Apostle of Christ (opens March 28), has revealed that he will be playing Jesus again in Mel Gibson's proposed sequel to The Passion of the Christ, tentatively titled The Resurrection. USA Today reports:
Caviezel, 49, confirmed he will reprise his role as Jesus in the planned film about the resurrection of Christ. "There are things that I cannot say that will shock the audience," he says. "It's great. Stay tuned." . . .

"I won't tell you how he's going to go about it," Caviezel says. "But I'll tell you this much: The film he's going to do is going to be the biggest film in history. It's that good."
In the two years that Gibson has been talking openly about The Resurrection, he has hinted that it will have demons from Dante's Inferno and flashbacks to the Old Testament. Time will tell whether either of those things are still part of the movie.
3. Variety reports that Mehdi Dehbi, a Belgian of Tunisian descent, has been cast in the lead role of Mark Burnett and Roma Downey's Netflix series Messiah:
The series will chronicle the modern world's reaction to a man who first appears in the Middle East creating a groundswell of followers around him claiming he is the Messiah. Dehbi will star as Al Massih. His character is described as an enigma with mysterious origins. People are unsure if he is a divine messenger or a political rabble-rouser. When he disappears from an Israeli interrogation cell with no explanation, his legend begins to grow.
Other actors who have joined the cast include John Ortiz…
Ortiz plays Felix, smart, humble and unassuming on the outside. Though blessed with a strong faith and a loving family, Felix struggles with his lot in life leading a tiny, uninspired congregation in a border town in Texas where he assumes he will live out the rest of his days. Felix's life is about to change as he gets swept up into Al-Massih's world. With growing power comes corruption and Felix must choose between remaining true to himself or going down a darker path.
…and Tomer Sisley:
Sisley will play Avrim Dahan, an embittered Shin Bet operative who is violent, aggressive, a non-believer who is fighting for the protection of his country and nothing else. He has done some shameful things in the fight against terrorism.
Netflix is planning to release the series sometime in 2019.
Finally, since I haven't said anything about this here at the blog yet:
4. It was revealed a couple months ago that John Legend will play Jesus in NBC's live broadcast of Jesus Christ Superstar on April 1, while Sara Bareilles will play Mary Magdalene and famed shock-rocker/Sunday-school-teacher/avid-golfer Alice Cooper will play Herod. We do not yet know who will be playing Judas, who is arguably the musical's central character (he performs the first song and the title song, at any rate).