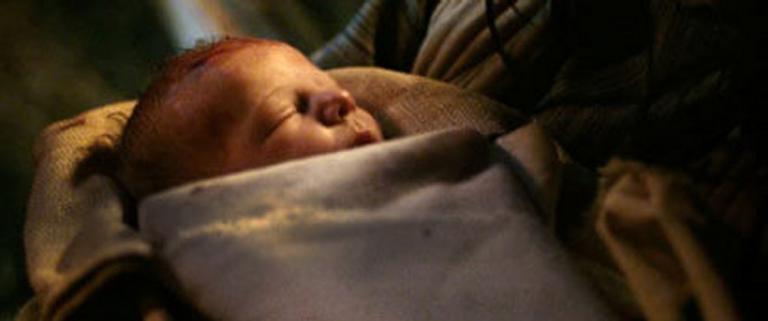 Things are a little quiet on the Bible-movie front these days — after six and a half years in which there was always at least one major Bible film or TV series in production (going back to Noah and The Bible, both of which were filmed in 2012), we seem to have entered something of a lull, following this year's box-office disappointments — but there's still some news to be shared, at least where smaller productions are concerned.
VidAngel announced last week that they have hit their initial crowdfunding goal of $4.5 million and are going ahead with production of the "first four episodes" of The Chosen, a projected multi-season series about the life of Jesus that will be filmed in Texas and directed by Dallas Jenkins, son of Left Behind co-author Jerry B. Jenkins.
A Christmas-themed pilot episode for The Chosen was posted online last year and has reportedly been viewed 15 million times. It is not clear to me whether Jenkins plans to re-shoot that episode — the way Campus Crusade's Jesus movie re-shot the Nativity-themed footage from the Genesis Project's word-for-word adaptation of Luke — or whether he will be shooting the first four episodes that take place after the pilot.
Incidentally, have any other Bible movies been filmed in Texas? I know The Greatest Story Ever Told was filmed in Utah, Nevada and Arizona, and of course many Bible films have been made in California. But no Texas productions come to mind right now.
Anyway, here is the VidAngel press release:
– – –
Crowdfunded Series "The Chosen" Gets Green-Light, Selects Texas as Official Filming Location
6,500 People Have Backed Director Dallas Jenkins in Bid to Create the First Multi-Season Series about Jesus—Now the #3 Crowdfunded Project in Entertainment History—Filming of first Four Episodes Begins in Capernaum Village outside of Dallas, TX with Limited Number of Set Visits Available in November 2018
(Los Angeles—September 26, 2018) VidAngel, the market-leading entertainment company celebrated for offering parents technology empowering families to skip and mute unacceptable scenes on Netflix, Amazon Prime, HBO, Roku, Apple TV, and Fire TV, and for its original, family-friendly content created through VidAngel Studios, is announcing another milestone in its bid to become the #1 provider of premium, brand safe content for the 52 million-strong U.S. values audience. The Chosen, the first original scripted series to be distributed by VidAngel, has now officially been given the green-light to film the first four episodes, which will begin in November outside of Dallas, TX.
"There's been such anticipation, and we're so eager to get started, we decided to film the first four episodes while we continue to raise money to complete season one. While filming, we'll be releasing daily updates so people can be informed and continue to spread the word," said Dallas Jenkins, Director of The Chosen. "And I can't wait to get to Texas–we found a great location, and the people in Texas "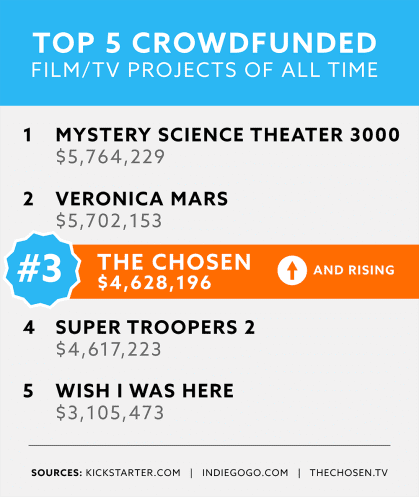 Understanding The Chosen
The Chosen—the very first multi-season series about the life of Jesus, is directed by Dallas Jenkins, and is the #3 most-funded project in crowdfunding history. The project is now positioned to unseat Mystery Science Theater 3000 as the #1 crowdfunded entertainment property. In late 2017, The Chosen Productions, partnering with distributor VidAngel, released a concept pilot in social media to gauge potential public interest in The Chosen. The pilot has been viewed 15 million times in 10 languages around the world. Directed by Dallas Jenkins (WHAT IF?, MIDNIGHT CLEAR, THE RESURRECTION OF GAVIN STONE), the series seeks to raise $13MM in total investment to create Season One.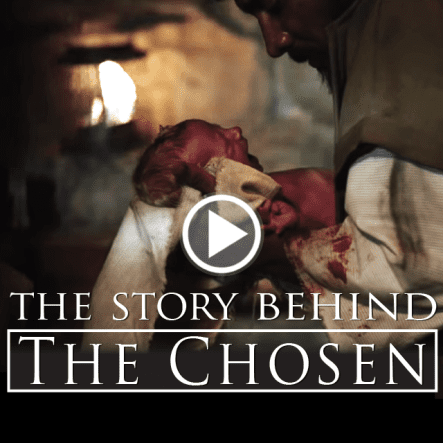 "The Chosen" Equity Crowdfunding Campaign
Crowdfunding Site: thechosen.tv
The Chosen's pilot episode can be viewed on YouTube here: https://youtu.be/YLUemFYq4PM
Endorsements
Ravi Zacharias, noted theologian and Christian apologist
Anne Graham Lotz, daughter of Rev. Billy Graham
Phil and Kay Robertson, stars of Duck Dynasty
Dr. Alveda King, Niece of Dr. Martin Luther King, Jr.
Tim Winter, President of the Parents Television Council
Dr. Jerry Johnson, President of the National Religious Broadcasters
Joni Eareckson Tada, Joni and Friends
Jerry B. Jenkins, celebrated Christian author
Bob Waliszewski, Focus on the Family's Plugged In
Pastor Brian Schwartz, Founder of Family Goals
David Bozell, President of For America
Rabbi Jason Sobel, co-author, The Rock, the Road, and The Rabbi
###
About VidAngel
VidAngel is the market-leading entertainment app empowering families to filter language, nudity, violence, and other content from movies and TV shows streaming on Netflix, Amazon Prime, and HBO. Available on modern devices such as iOS, Android, ROKU, Apple TV, and Amazon Fire TV, the app continues to grow in popularity. VidAngel Studios, the company's original content division, is the leading provider of premium, brand-safe content for the 52 million-strong U.S. values audience.
VidAngel Studios is a business line of VidAngel, Inc. Neither VidAngel Studios nor VidAngel, Inc., are licensed or registered as a securities broker-dealer, funding portal or investment advisor. Neither will act, or be compensated, as a placement agent for any potential investment. Securities will ONLY be offered through issuer. Further, VidAngel Inc. and VidAngel Studios do NOT guarantee the success of any funding effort or of any production generally.