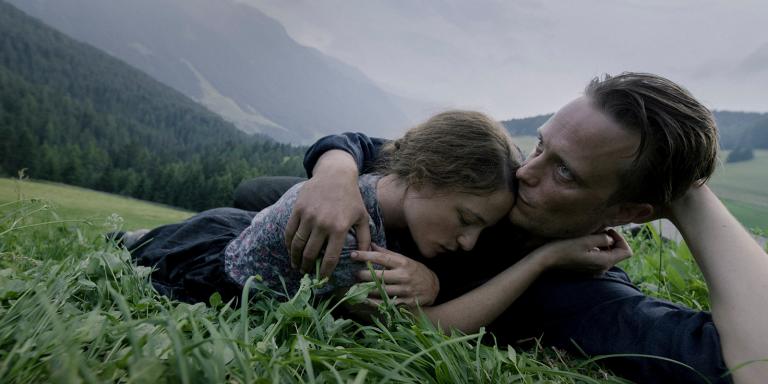 It's mid-September now, so that can mean only one thing: the Vancouver International Film Festival is almost upon us!
The festival starts, in fact, in just ten days — and, as usual, there are a number of titles on the program that look rather interesting from a religion-and-spirituality point of view.
For example, there are documentaries about missionary movements that tap into some of the more urgent political and cultural questions of our times: The Rabbi Goes West (October 7 & 8) concerns an Orthodox Jew who goes to Montana to evangelize his more liberal brethren, who disagree with him on how to handle the resurgence of white supremacy, etc., while Buddha in Africa (October 8 & 10) looks at the religious dimension of Chinese expansionism in Africa, where Buddhist monasteries teach people not only how to follow the teachings of the Buddha but how to speak Mandarin, etc.
Other films look at recent developments within Roman Catholicism. Fernando Meirelles' The Two Popes (October 6 & 7) dramatizes the transition between the "conservative" Pope Benedict XVI (Anthony Hopkins) and the "progressive" Pope Francis (Jonathan Pryce), while François Ozon's By the Grace of God (September 28 & October 1) tells the true story of French sexual-abuse victims who sought justice against the priest who abused them and the archbishop who covered it all up. And then there is Bruno Dumont's Joan of Arc (September 28 & October 2), which goes back six centuries to take an unconventional look at one of Catholicism's more popular saints (played, here, by a 10-year-old girl).
Then there are the period pieces about people who resisted the injustices of their times. Kasi Lemmons' Harriet (October 5) concerns Harriet Tubman, the abolitionist who helped liberate hundreds of slaves before and during the American Civil War, while Terrence Malick's A Hidden Life (September 29) follows a devout Austrian Catholic who was ordered to fight for the Nazis during World War II and refused to do so.
Other films that pique my interest include: Noah Land (October 3 & 8), a Turkish film about a struggle for possession of a tree that pilgrims associate with the man who built the Ark; Divine Love (October 6 & 9), the latest film to take a critical look at the rise of evangelicalism in Brazil (set nearly a decade in the future!); Architecture of Infinity (September 27 & October 2 & 10), a documentary about contemporary temples, churches and other religious buildings; Samsara (October 1 & 3), a "satiric yet spiritual" story about four worldly Buddhist monks; and Beyond Belief (September 29 & October 6), a shorts program that includes a few films with a strong religious or multifaith element.
The festival runs September 26 to October 11. I will be able to preview some of the films above, and will post capsule reviews between now and the start of the festival; as for the others, I hope to see them and say something about them during the festival itself.
In the meantime, click here for more information about the festival. See you there!
— The picture above is from Terrence Malick's A Hidden Life.