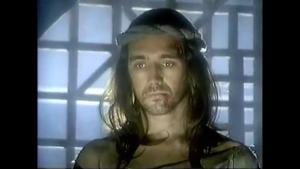 Terrence Malick has used biblical themes and images in a number of his films — from the plague of locusts in Days of Heaven to the Job-like questioning in The Tree of Life — so it was probably only a matter of time before he made an out-and-out Bible film. And now he's making one, it seems. Word leaked out earlier this year that Malick had started shooting a movie called The Last Planet that would convey passages from the life of Jesus in the context of his parables, and now Mark Rylance has revealed that he will be playing Satan in the film.
What makes Rylance's involvement all the more interesting is that he actually played Jesus himself back in the early 1990s, in a British TV-movie called Incident in Judaea, which was based on the Pilate-themed sections of Mikhail Bulgakov's The Master and Margarita. (The image above is from that film.) Rylance would thus seem to be joining Max von Sydow (1965's The Greatest Story Ever Told, 1993's Needful Things) as one of the few actors who has played both Jesus and Satan onscreen at different points in his career.
And who is playing Jesus in Malick's film? According to Rylance, Géza Röhrig — star of the Oscar-nominated Holocaust drama Son of Saul — has that role, and Matthias Schoenaerts, of Bullhead and Rust and Bone fame, will be playing Peter.
Malick can take forever to edit his films, so it's anyone's guess as to when this one will be finished, much less shown to the public. (His newest film, A Hidden Life, is currently making the festival rounds; it was shot three years ago, in the summer of 2016.)
Come to that, Malick is also notorious for drastically reshaping his films in the editing room — Adrien Brody was famously cast as the main character in 1998's The Thin Red Line and didn't learn that he had been almost entirely cut out of the movie until he attended the film's premiere — so I can't resist wondering, mainly in jest, if this Jesus film will still be about Jesus in the end.
Won't Jesus be surprised when he shows up at the premiere of the next Terrence Malick movie and learns he isn't the main character any more.

— Peter T Chattaway (@ptchat) September 9, 2019
But, speaking of The Thin Red Line, that was the movie that put Jim Caviezel on the map — indeed, Malick reduced Brody's role in the film partly because he was more interested in Caviezel's character — and Caviezel, of course, was cast as Jesus in The Passion of the Christ just a few years later. So to extend my joke, wouldn't it be kinda funny if history repeated itself, and the ostensible lead of Malick's Jesus movie saw his role get cut down heavily in favour of another actor who then got to play Jesus in another movie…?