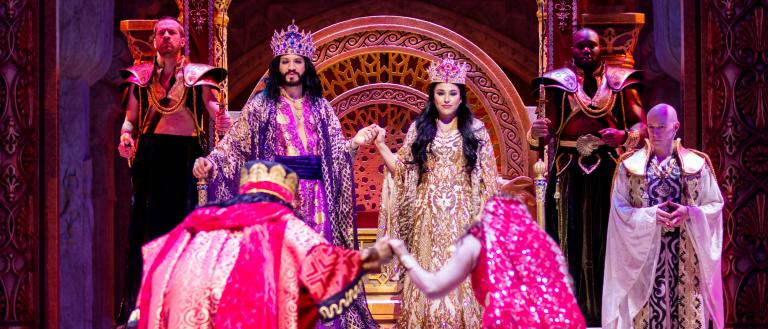 The pandemic has hit the entertainment industry pretty hard, and for the Sight & Sound theatres in Pennsylvania and Missouri, it has been a double-whammy, affecting both their stage productions — all of which are musicals based on Bible stories — and their recent foray into movie-theatre screenings of some of their biggest hits.
Their big-screen release of the musical Jesus, which was originally set for early April, was scrapped at the last minute and the film premiered on TV instead. And their stage production of Queen Esther, which was going to premiere in March, was also cancelled — but now it is being resurrected, as it were, as a special live-streaming event.
Here is their press release about the event:
–
FIRST-EVER LIVE BROADCAST OF A SIGHT & SOUND THEATRES® SHOW TO AIR LABOR DAY WEEKEND: 'QUEEN ESTHER' – LIVE!
For one night only, Sight & Sound's brand-new original stage production QUEEN ESTHER will make its worldwide debut – exclusively on the new streaming platform, Sight & Sound TV.
LANCASTER, Pa – For the first time ever, Sight & Sound Theatres is bringing a live televised show to the world. After three years in development, the spectacular brand-new stage production QUEEN ESTHER was set to premiere in Lancaster, PA on March 14, 2020. Then the world came to a screeching halt and like many others, Sight & Sound went dark. Over 200 shows were cancelled with more than 500,000 ticket holders unable to experience the show.
Now, for one night only, Esther's timely story will come to life like never before in a special worldwide pay-per-view live event, available exclusively on Sight & Sound's brand-new streaming channel, Sight & Sound TV.
"The thrill of live theater is watching the show unfold right before your eyes," says Sight & Sound Chief Creative Officer Josh Enck. "We're so excited to bring that same experience to living rooms all across the world."
With cameras covering the theater from every angle, including on stage and behind the curtain, audiences will experience a live Sight & Sound show like never before, giving them the best seat in the house for every spectacular moment. The live event will include a 30-minute pre-show and a 20-minute intermission, with exclusive behind-the-scenes interviews and a sneak peek at how the production was created.
"Esther's story is one of courageous faith in the midst of chaos," Enck continued, "This show is truly meant for such a time as this."
Synopsis
Set in the opulent yet perilous Persian Empire, QUEEN ESTHER is a captivating tale of beauty and bravery. Esther's ordinary life changed forever when she was taken through the palace doors, entering a new world of royalty and risk. With a crown on her head and a secret in her heart, can she find the courage to trust in God's plan and believe that she was made for such a time as this?
Experience one of the most riveting Bible stories of the Old Testament as it comes to life with magnificent sets, special effects and live animals in this brand-new, original stage production from Sight & Sound Theatres.
Live Event: Friday, September 4th, 7pm ET
Live streamed encore showings: Saturday, September 5th, 3pm ET and 8pm ET / Sunday, September 6th, 8am ET and 3pm ET
–
You can watch a trailer for the live-stream here:
You can also watch this trailer that was posted in February for the stage production:
There was also this behind-the-scenes video posted in October 2019:
And there were these announcement videos posted in December 2018:
Queen Esther will begin streaming on Sight & Sound TV September 4.