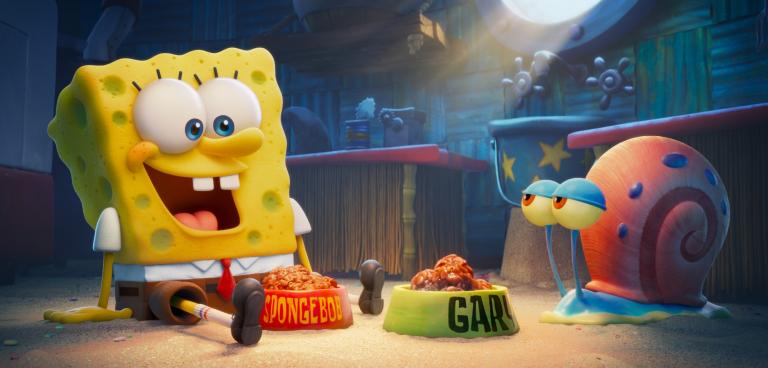 Many movies have had to change their release plans in the wake of the COVID-19 pandemic. Some have been delayed for months, while others have gone straight to streaming. And then there is The SpongeBob Movie: Sponge on the Run, the third feature-length film based on the long-running SpongeBob SquarePants series.
Like a few other animated films that were originally going to come out in theatres, Sponge on the Run is now going straight to the internet in most of the world — via CBS All Access in the U.S. next year, and via Netflix almost everywhere else.
But in Canada, where much of the animation was done, the film is getting a full theatrical release as of today (August 14). So it is now the first new movie from a major Hollywood studio to play in theatres since the industry shut down five months ago.
Will parents and their children leave their houses to see a big-screen iteration of a franchise that has already produced hundreds of TV episodes that they might already have on DVD? Perhaps. And will the new movie give them anything they haven't seen before, to make their trip to the theatre worthwhile? Quite possibly.
For one thing, it is the first SpongeBob story in which all of the animation is done by computer. (Alas, for those like me who enjoy 3D, this film is not getting a 3D release, even though the previous film came out in that format, and even though CG animation is perfect for 3D, as even a 3D skeptic like Roger Ebert once admitted.)
For another, the film reveals a few things about SpongeBob's childhood that, I am told, have never been seen before — but I may be getting ahead of myself.
The film starts on a familiar note, with SpongeBob and his best friend Patrick Star, a starfish, waking up and shouting "Good morning!" to each other from their homes, over and over and over again until the octopus Squidward, annoyed as usual, tells them to cut it out. We then get scenes of SpongeBob working at the Krusty Krab restaurant (scrubbing the walls clean with his body because he is, well, a sponge), the Planktons debating how their schemes have been foiled in the past, and so on.
It seems like just another day in the life of the residents of Bikini Bottom.
But then something unusual happens: King Poseidon — an apparently brand-new character who is not to be confused with the first film's King Neptune — issues a decree, looking for snails. The king, who is obsessed with his appearance, has been using snail slime to keep his face wrinkle-free, but his last snail has now run dry, so he needs to replenish his supply — and thus, SpongeBob's beloved pet snail Gary is taken away, and SpongeBob and Patrick decide they have to go and get him back, because, as SpongeBob puts it, "Friends don't let friends become someone else's face cream."
The ensuing adventure — which takes SpongeBob and Patrick to "the Lost City of Atlantic City," an underwater resort filled with casinos and floor shows — has much of the wacky, hypercaffeinated humour you'd expect from a SpongeBob story.
Some of it consists of eye-rolling puns, like when the face of Keanu Reeves appears to SpongeBob and Patrick from a tumbleweed and he offers to serve as their spirit guide — he's a sage made out of sage, get it?
And some of it seems like it's from another movie entirely, like when Snoop Dogg raps in a saloon filled with dancing "flesh-eating cowboy pirate zombies". I've never particularly cared for the live-action sequences on the TV show, and this sequence did nothing to change my mind about such interludes.
But some of the humour is almost profound in a dopey kind of way. I particularly liked the scene where Patrick asks SpongeBob, "What's the next best thing to courage?" and SpongeBob, not quite getting the question perhaps, runs through a series of synonyms for courage before Patrick finally tells him the answer: the next best thing is a friend, someone who can support you when your bravery begins to flag. That's kind of deep, really.
And it points to the reason the series has been so enduring over the years: As wacky and hyper as it can get, SpongeBob Squarepants is ultimately about friendship — and to underline that point, the film has several flashbacks to SpongeBob's childhood and how he met his friends. (Curiously, the child SpongeBob sounds like a normal child, whereas the adult SpongeBob . . . does not sound like a normal adult.)
So while the film might look a bit different from a typical SpongeBob SquarePants episode, its heart is very much in the same place. Fans of the series who have been itching for a reason to get out of the house will probably get a kick out of it.
— The SpongeBob Movie: Sponge on the Run opens today in theatres across Canada. The film is rated G in most provinces and PG in Alberta. It is also rated PG in the United States, where it is expected to premiere on the CBS All Access streaming service in early 2021.