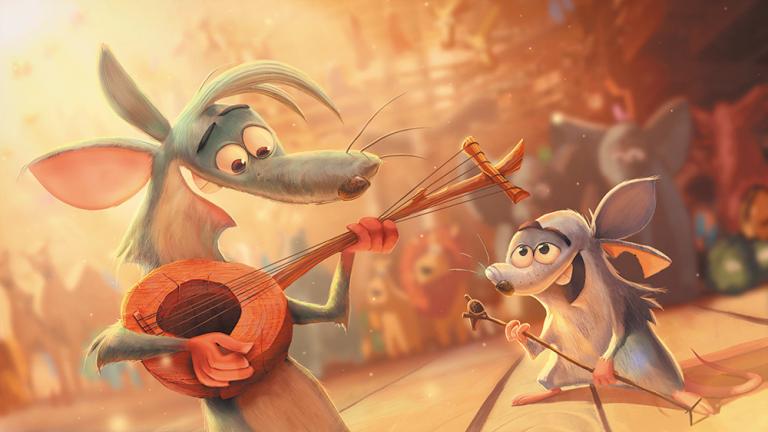 It's been six and a half years since we first heard that Brazilian filmmaker Walter Salles (1998's Central Station, 2004's The Motorcycle Diaries, etc.) was going to co-produce an animated movie about Noah's Ark based on the songs and poems of Vinicius de Moraes (creator of the stage play that became 1959's Black Orpheus). Four years ago, we heard that the movie had "concluded development". And since then… I'd heard nothing.
But now Variety reports that the film — which now bears the title Noah's Ark: A Musical Adventure — will be one of the animated "Works in Progress" featured at Ventana Sur, a market for Latin American productions that kicks off at the end of the month.
Variety describes the film as "one of the most buzzed animated features to come out of Latin America in recent years" and says it "boasts Brazil's largest-ever budget for an animated film". The trade also says Noah's Ark: A Musical Adventure is "the first Brazilian animated feature with an Indian co-producer in Symbiosys Technologies."
Here's the blurb for the film on the Symbiosys website:
The film's leading characters are two cute, free-thinking mice named Vini, a charismatic poet who suffers from terrible stage fright and Tito, a talented musician who's also naturally elegant and always accompanied by his inseparable guitar. As only one male and one female of each species are allowed on the ark, Vini tries to board the ark in drag (in a homage to Some Like It Hot) only to be found out by Noah and kicked off the ship. But with the help of the ingenious cockroach Alfonso and fate's good luck, Vini makes his way back on to the ark and together with Tito, they avert a showdown among the ships carnivores, led by the self-important lion Baruk, and the herbivores led by the hugely comical old goat Severino. Staging a talent contest to buy time before the ark runs out of food, the animals perform a series of classic songs by Vinicius de Moraes until finally, land is sighted after 40 days and 40 nights, bringing a happy ending to the ark's perilous journey.
The film is being directed by Sérgio Machado.
No release date has been announced yet. So stay tuned. In the meantime, here's a poster for the film-in-development that was released a couple years ago.