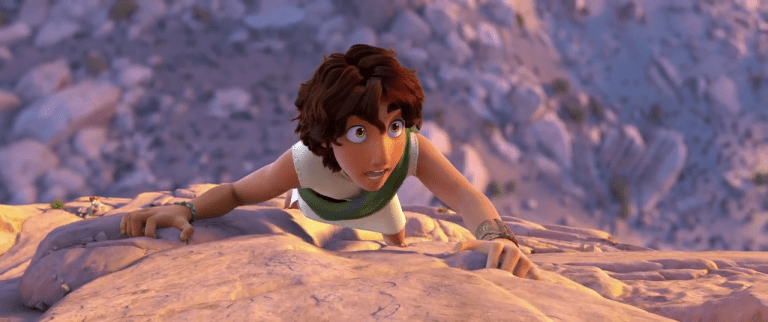 What hath The Chosen wrought?
The popular straight-to-streaming life-of-Jesus series got its start a few years ago when 16,000 people invested $10 million in the show's first season. Now other Bible-themed projects are going the crowd-funding route — and some of them are hosting livestreams in the next few days to raise awareness of their projects. Even The Chosen has another livestream planned for this week, as the show forges ahead with season three.
Below, a quick rundown:
–
The Chosen is the one that started it all, of course.
The final episode of season two — which climaxed with the Sermon on the Mount — came out three months ago, and the producers have released a steady stream of behind-the-scenes videos ever since to keep interest in, and awareness of, their show alive. The newest livestream will take place Tuesday night at 6pm PST / 9pm EST, and they're promising that it will begin with a "Big Announcement".
You can watch it here:
–
The Covenant is a planned anthology series based on the Old Testament.
As I mentioned in a post last month, The Covenant is being written by Andrew Klavan and directed by Cyrus Nowrasteh, the latter of whom previously directed The Young Messiah, a movie about the childhood of Jesus based on Anne Rice's Christ the Lord: Out of Egypt. One of the show's producers is Ron Daw, who was chief financial officer for The Chosen in its early days and helped organize their original crowd-funding campaign.
The Covenant will be hosting a livestream with Klavan, Nowrasteh, and Bible scholar John Walton on Monday at 4pm PST / 7pm EST. You can register for it here.
–
David is an animated movie about the first part of King David's life.
Like The Chosen, this film is backed by Angel Studios, but it originated with a South African company called Sunrise Productions, whose credits include the long-running animated series Jungle Beat and its feature-length spin-off, which came out on Netflix earlier this year. Producer Phil Cunningham says he's been working on David for 20 years now, and he has assembled a team that includes songwriter Jonas Myrin and story head Nathan Stanton, who worked for many years as a story artist at Pixar, where his older brother Andrew was the Oscar-winning director of WALL-E and Finding Nemo.
You can watch a demo here:
You can also watch David-related livestreams on Facebook and YouTube every week.
–
Finally, and on a less directly biblical note, The Shift is based on the story of Job.
Like David and The Chosen, this film is also backed by Angel Studios; indeed, they are calling it their first feature film. The studio's website describes the film as "a modern day, sci-fi story of faith that takes a lot of its cues from the Book of Job":
Our Job—Kevin—will face off with the devil in a way that exposes his tricks and his lies by shining a light that cuts through all that darkness.Kevin will be presented with concrete temptations most of us can relate to, and we'll see how his choices alter the world around him. The sci-fi plot that lets Kevin "shift" between realities shows with dramatic allegory the way our lives can be changed by small daily choices.

In the end, Job proved worthy of God's faith in him. The question is: can Kevin overcome the temptation of untold wealth and power to do the same?
Writer-director Brock Heasley has already produced a short film based on the concept:
His most recent livestream (which I have not yet watched) took place last Thursday:
You can read more about the film — including the entire screenplay — here.