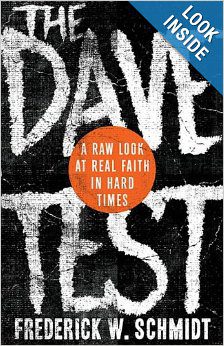 It wasn't long after my wife and I started dating that I realized I had made a critical mistake in trying to date a therapist. As we got to know each other and as I let Tracy into my own long history of broken dreams, Tracy tried to not-so-gently tell me that I sucked at grieving and that I needed to re-learn everything I had been taught about grief. She promptly marched me to her car, opened the back, and handed me a book called "When Children Grieve" out of a box of 100+ copies.
I wasn't impressed.
But, I read the stupid book anyway. I actually learned a thing or two from it, and found it enlightening on many levels. However, I swore I'd never read another book about grief.
Until I did this week. Even more crazy, was that the book I read this week was a Christian book. Obviously, as a Christian writer I love Christian books, but on the issue of suffering and grief? I have found historically that Christian books on the subject accidentally do more harm than good as they fill our heads with conflicting views of what God is actually like– vacillating between a god who is so permissive in regards to suffering that he practically becomes complicit via negligence, to a god who is so sovereign and in control that he actually becomes the author and cause of suffering.
Either way, we end up getting advice and explanations that are less than helpful.
This book, was none of the things I feared it would be: it was raw, honest, and practical. And, it came at just the right time– over the last few weeks I've grown discouraged with some things I'm sorting out, and this book was a big help in a process of clearing my head and getting refocused for the future.
However, the best thing I feel Frederick Schmidt stumbled upon in this book– and my focus here today, is a concept he calls the "walking wounded".
In a piece I wrote a while back, I argued that one of the reasons why people leave church is because they are often unable to find authentic community. I'm sure there are a host of reasons why the American Church has a difficult time developing authentic community, but I think it flows something like this:
We live in a culture that seems to value those who appear strong, independent, and who have it "all together"– so we learn to act and live as if we're strong, independent, and have it all together. The problem is, very few of us are like that. The more realistic truth is that we are people who have our own histories of dashed hopes and broken dreams, people who have tried to do this on their own and are beginning to realize life wasn't intended to be done that way. We are people who are looking for something more– something done together.
While we realize this truth inside, when you put us all in a room together we revert to a default state of pretending that everything in life is fine, and that we have all of our crap in one bag.
We're not able to be fully honest with ourselves, or be fully honest with each other, which is the wrong recipe for building authentic community. The elephant in the room is that we all need each other, but judging by our inability to be vulnerable you'd never actually realize that. And so, the cycle continues– a room full of people, many of which want authentic community, live with deeply ingrained needs going unmet because none of us want to take a chance and be the first one to say, "I don't have it all together… I need you guys."
As Schmidt writes:
"walking wounded is about living in a completely and uncompromisingly honest fashion."
Being able to be honest with ourselves, and honest with each other, opens us up to build and partake in rich and authentic community. It takes vulnerability, it involves some risk-taking, but it's the only way to get there. As Schmidt goes on to say of "walking wounded":
"… They have learned to own their own powerlessness. They have learned to admit that they need others. They have learned to love and let themselves be loved. More important, they have learned not to run from those lessons by hiding behind competence. That kind of vulnerability also makes it possible for them and for any of us to offer one another the gifts of friendship, redemptive possibility, perspective, and wisdom… the ability to walk wounded creates the potential for something very different: friendship."
The truth? We're all "walking wounded" but won't find the community we're looking for until we all take a chance and just start being honest about that. Ironically, we might actually realize that our collective experiences, and our collective brokenness, might actually be the fodder which creates the healing balm so many of us are craving.
 Looking for deeper and more authentic community?
Me too.
Let's start by admitting that we're all "walking wounded" and build it together from there.