Alejandro Field has released a new book. It's called Pastor Pastor: Feed My Sheep.
Recently, I caught up with Alejandro to discuss his book.
Enjoy!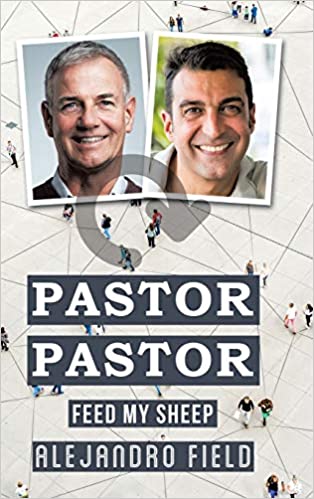 Go here to read a Spanish version of this interview.
When readers ask "what's your book about?" they are really wanting to know "how is this book going to solve a problem I have?" How would you answer that question?
As we read the book, we find ourselves following the stories of two pastors during twenty-five years from their shared time in the seminary through the quite dissimilar paths they take and the various crises they face. Their paths cross again in a surprise and emotion-filled retreat for pastors they both share together with several of their former seminary classmates. Each of the participants is confronted with their real vocation and most of them make dramatic changes from there on.
On a parallel level we share the experiences of those affected by the actions of these pastors. From the particular viewpoint of a couple that are friends with both pastors we get to see things from the bottom, as it were, where many lives are touched in positive ways but many also, regretfully, in harmful and destructive ways.Many of these hurting former members of churches get a chance to meet and share their experiences in a series of cathartic encounters.
The story is an interplay between the two groups with a common theme running through — A Second Chance. For pastors, for members still in churches and members who have left and especially for the relationship between them.
An interesting aspect of the book is that even though the backdrop is religious — people, places, events — it is equally relevant to any group of people with its stories of ideals, ambition, manipulation, politics, and so on. In words of the back cover of the book, "much of what happens is related to our common humanness."
There are countless books on the subject you've written on, what is unique about your book? How is it different from all the others?
Actually, I don't believe there are that many books on this subject at least in the format (novel) and viewpoint (bottom up) of this one.In Spanish at least,I'm not aware of a full-fledged novel with a Christian background that carries a message that is equally relevant and applicable for the non-Christian world. Both in English and Spanish what makes the treatment of the main theme of this book, i.e., the struggle of pastors with their vocation, the way they affect others and the relationship between both groups, unique is the viewpoint from below. If we're honest the vast majority of materials — books, video/audio messages, conferences, retreats — on the church in general and specifically on members of the church are written by pastors or leaders. I have always been a lay/non-leader active member of different churches throughout my lifetime, so I believe I can legitimately offer the other side of church conflicts and failures with a specific burden to get many of those who have left the church back into active and productive service.
What provoked you to write the book? Give us a story behind the decision to take the time and effort to produce this book (which is no small task).
The original version back in 2009 was spurred by an important secular novel competition in Argentina. At that time, I thought I needed to tell a story with a realistic, believable, and interesting background. I remember having read The Chosen by Chaim Potok with his Jewish backdrop and realized that in a similar way I had spent my whole life in a church environment, so I used this to set my story. I didn't win the prize and kept the manuscript on the back burner.
I studied and read a lot about writing techniques and realized it needed a complete overhaul. Entering our strict lockdown, I heard of a major Christian publisher that catered to new authors. Since this is an American publisher, I decided to translate the book into English, since I am a translator. As I went through the text meticulously, I improved the storyline, characters, places, descriptions, and the overall message considerably. Then I saw that I could use this rehaul of the novel to publish a version in Spanish with this same publisher. So finally,both versions in English and Spanish were launched simultaneously in October 2020.
Give us 3 points that you make in the book that would give readers a preview of it. Think of those 3 points as your movie trailer that will motivate people reading this interview to get the book.
The turbulent 70's in Argentina steeped in violence from terrorists and the military dictatorship are the backdrop of the seminary where a group of youths start to develop their pastoral vocation.
Whereas the vast majority of speakers, writers, conferences, books and other material take on the viewpoints of pastors and leaders this book is predominantly the view from below and propounds working on a healthy and balanced relationship between leaders and led in the church.
Burnt out pastors and leaders and disillusioned members who have left or have been made to leave the churches they loved and worked for passionately for years. How can we recover these treasures for the Kingdom?
What have been the biggest objections you've had to the book so far? And how do you respond to them?
One objection I received in the initial version is that it had too many characters that were difficult to follow. I made a great effort in the new version last year to define them better, associate them with locations, and refine the relations between each so as to help the reader to keep track of them.
How can readers get the book?
Both English and Spanish versions, in electronic or printed form, can be purchased at Amazon, Barnes & Noble, The Book Depository and WestBow Press.
—
A book interview on this blog is not necessarily an endorsement for the book being featured.
Are you an author? Would you like receive a full-length interview on your book on this blog?
If so, check out the SCRIBE online training for authors. Everyone who goes through the training receives a free interview right here on Patheos.
SCRIBE opens twice a year for registration (the entire training is online, so you don't have to leave your home). Join the wait list if registration isn't open and you will be notified. Go to AttendScribe.com