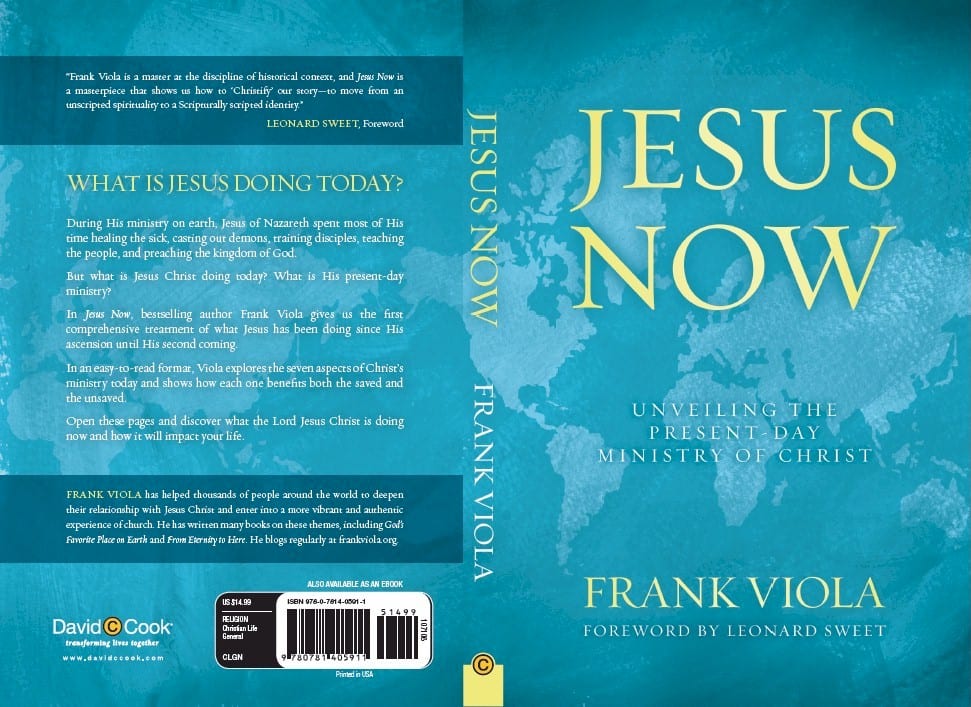 To natural minds, Jesus' ministry ended in failure on two counts: (1) a failure in Galilee when most of His followers turned away from Him, and (2) a failure in Jerusalem when His disciples deserted Him, and He was put to death on a cross.
But the work of Christ went on.
Jesus was raised by His Father and ascended to God's right hand (Eph. 1:20–22; Col. 3:1; Heb. 1:3; 7:26; 8:1; 10:12).
But He didn't retire, nor was He detached from the world. Instead, He began His present-day ministry, where He became powerfully present with His followers.
His followers weren't to carry on Jesus' work in His absence. No, Jesus shared His ministry with them (Mark 16:19–20; Acts 1:1–2).
The work of God today is still the work of Christ. He carries it out in His enthroned state, withdrawn from visible sight but active in Spirit in and through His followers.
The book of Acts would be more accurately called "The Acts of the Risen Christ through His Apostles."
While Christ is no longer visible to unaided human sight, He is still powerfully active through His disciples. Jesus doesn't operate us by remote control. He's present with us by His Spirit.
He's not a clockmaker who sets the work going and then leaves it to go on by its own momentum. No, Jesus keeps it going Himself.
Jesus still is—present tense—the visible image of the invisible God (Col. 1:15). When we see Jesus operating through His people, we see God. Jesus is still the human face of God.
—
The ascension of Jesus demonstrates that we are part of another world, another realm, another kingdom. As Christians, therefore, we shouldn't identify ourselves with the present age—whether country, culture, or race. We are part of a new humanity where Jesus is head. As "partakers of the divine nature" (2 Pet. 1:4), we have a source of continuing transformation that empowers us to transcend nationalism, racism, and culture wars—to be a people of reconciliation who stand in the gap between the petty conflicts that often rule this present age.
The ascension shows us that the church ought not to be captive to the partisan spirit of this present world. We are not home in this old world, which is passing away. Rather, we are part of the new heavens and the new earth.
The ascension is God's no to the principalities and powers, and God's yes to His Son. Jesus has triumphed, and there is no other Lord but Him (Acts 2:36).
Historically, Christians have made three main errors when it comes to their relationship to the world. Properly understood, the ascension of Jesus corrects each error. They are …
Problem 1: Withdrawal from the World
Solution: In His ascension, the body of Christ is Jesus acting in and for the world. Christians are light and salt in a dark world. Recall that when Jesus was on earth in His human body, His main task was to see what His Father was doing and join Himself to it.
Today, our main task is to see what Jesus Christ is doing and join ourselves to it. Thus we don't draw away from the world; we enter into it and follow Jesus wherever He is moving
Problem 2: Trying to Bring the Kingdom on Earth
Solution: In His ascension, Jesus brings part of His kingdom on earth now through His ekklesia, but He will bring it in its fullness only at His second coming. The kingdom is here already but also not yet. We cannot bring the kingdom into being in our own power. And we cannot bring the kingdom ahead of the King.
Problem 3: Conformity to the World
Solution: In His ascension, Christ lives in His people by the power of His indwelling life. That life keeps us distinct from the world and its values as we answer a higher, more compassionate call. The Lord's ascension also proves that Jesus is Lord.
As such, His followers are part of a different kingdom with a different core trajectory.
Looking at all three problems and their solutions, we encounter a paradox in Scripture. And that paradox can be put this way: for God so loved the world versus love not the world. 1
1 For details, you can freely listen to my conference message For God So Loved the World vs. Love Not the World.
We live on earth with the life of eternity in our spirits. The ekklesia is a colony of heaven on earth (Eph. 2:18–22; Phil. 3:20–21; 1 Pet. 2:9–12; Heb. 11:13–16). The Holy Spirit is the reality of Christ's presence and dispenses to us the very life that Jesus lived.
At Pentecost, the Holy Spirit came as the Spirit of the glorified Jesus, the Spirit of the incarnate, crucified, and exalted Christ. The Spirit came to take the life that had interwoven humanity and divinity in the person of Jesus and dispense it to God's people. And He, Christ, promised to be present with us until the consummation of the age (Matt. 28:20).
Knowing that Jesus is ascended and enthroned in heaven, we have assurance of final victory. If we take the time to pay attention and rest in these promises, this knowledge delivers us from fear, depression, and insecurity during the trials and tests of life.
Whatever happens, Christ is still on the throne and in control. The Jesus of yesterday is the Jesus of today and will one day become the Jesus of tomorrow.
Our representative Man has reached the goal; the forerunner blazes the path for us all. We are partners of the heavenly calling (Heb. 3:1), pioneers of the heavenly way. He has dominion over heaven and earth. He secured the eternal purpose of God and "ascended on high" to bring forth "many sons to glory" (Heb. 2:10; Eph. 4:8). And for reasons hidden in His infinite love and mercy, God has allowed us to participate in Christ's present-day ministry of sanctification and redemption.
We can lay hold of these realities only with the eyes of faith. Here's how . . .
Excerpted from Jesus Now.