Heaven, an Unexpected Journey: One Man's Experience with Heaven, Angels, and the Afterlife is the story of how Jim Woodford died and spent 11 hours in heaven. When he came back, he was forever changed.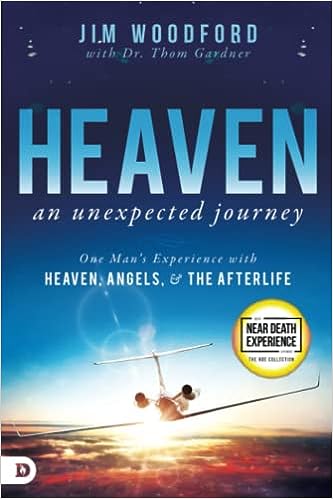 The book is by Destiny Image, an superb publisher who will be releasing my upcoming book The Untold Story of the New Testament Church: Revised & Expanded.
Heaven is well written and cosmetically appealing. (As an author myself, I notice great pagination. I like the font used and the way the paragraphs have a space between them. It makes for easy reading.)
The story is fascinating and the book is a fast read.
A close friend of mine read it recently (in just two days). They are skeptical by nature but they said they believed the story.
If you read it, I'd like to hear your own impressions.
Here's a description from the publisher:
A successful airline pilot and businessman, Jim had it all—a loving family, substantial wealth, and all of the good things that come with it. But none of this was enough to satisfy the emptiness he felt in his heart. He always hungered for something more. And then he died.
Jim was never a religious man. When it came to matters of God and faith, he was ambivalent. But as he lay in the hospital bed, clinically dead for more than 11 hours, his consciousness was transported to the wonders of Heaven and the horrors of hell. When he returned to this world, he brought back the missing peace his soul had been longing for.
Join Jim Woodford on this unforgettable journey into the afterlife!
Awaken to the vivid sights, sounds, and sensations that you can enjoy in Heaven forever.
Be inspired by detailed descriptions of the "contrails of prayer" in Heaven's skies, the "sticky love" of God, what it feels like to hug an angel, and more!
Encounter the chilling realities of hell, and the sharp claws of destruction that threatened to pull Jim into eternal darkness.
Take comfort in the "six simple words" that led Jim into the presence of Christ.
Whether you need hope for tomorrow or strength for today, this story is your invitation to a radical transformation!