Mark Fairchild is a force of nature. He's an expert on Paul's travels, having been to the sites firsthand. His research is broad, and he's known as "Indiana Mark."
His book Christian Origins in Ephesus & Asia Minor is an excellent look at the sites. And his film The Last Apostle — which you can watch on Amazon — is worth the time. Mark has been helpful in answering many of my questions for my upcoming book that reconstructs the story of the first-century church.
I caught up with Mark recently to discuss his book and film.
Enjoy!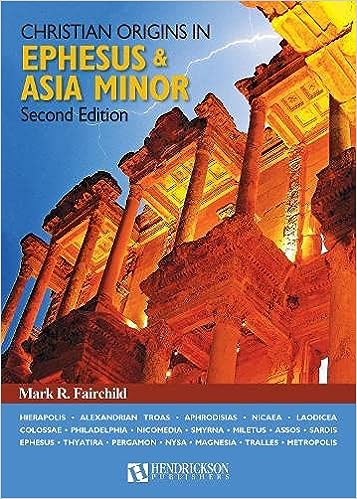 How long did it take you to the write the book from the very beginning to the time you turned the manuscript into the publisher?
I conducted two seminars for Turkish tour guides when a couple of them asked me to write a book integrating recent archaeological discoveries in western Turkey with the narrative of how Christianity came to the area.
The schools in Turkey mention nothing about the country's rich Christian heritage, so the guides have few good resources to help them. Altogether, it took me about a year to write the volume and to select good photos to illustrate the book.
Before Barnabas brought Paul back to Antioch (from Tarsus), Paul (then called Saul) really didn't have any long-standing experience living in an authentic church. While he certainly preached, we don't have any evidence that he was a part of a believing community before his experience in Antioch of Syria. Do you agree with this? If not, where can you point to a church that Paul was a part of?
Paul tells us in his letter to the Galatians that he spent three years after his conversion before he returned to Jerusalem. Those three years were spent in Damascus and Arabia (the Nabataean Kingdom).
We know there was a church in Damascus at that time, but we don't know anything about the status of Christianity in Nabataea.
When he returned to Jerusalem, Paul spent fifteen days with Peter (Gal 1:18) before the believers sent him back to Tarsus. For the next seven to nine years, Paul lived in Cilicia as he learned more of the Gospel and shared his faith in the cities and towns of the region.
These were important formative years in Paul's life, as he grew theologically and then implemented the teachings by establishing churches in Cilicia. This is the topic of my next book which I have nearly completed.
On the heels of the above question, some scholars have pointed out that Barnabas was a mentor to Paul during his days in Antioch of Syria (when he brought him there from Tarsus). Do you agree?
Relationships have a way of impacting everyone, so Barnabas certainly influenced Paul.
However, we need to take Paul's words in Gal 1:11-21 seriously. Here Paul insists that the Gospel that he preached was not a tradition that he received from others. Rather, Paul emphasized that his gospel was given to him as a revelation (an apocalypse) of Jesus Christ.
This was reiterated by the apostle in 2 Cor 12:2, when Paul described this apocalypse as happening fourteen years earlier. Fourteen years earlier would have been in the middle of the seven to nine year period when Paul was in Cilicia.
In Acts 14:21, we are told that Paul preached the gospel in Derbe and won a large number of disciples (we know later that he planted an assembly there). My question: where do you suppose he preached in Derbe? Would he have preached in a synagogue (did Derbe have one)? Or the marketplace?
Paul's custom was to preach in the synagogue if the town or village had one. The narrative in Acts is very brief here and does not provide details. Derbe is just now being excavated. They only began a small excavation a few years ago.
Two scholars I read said Berea was located in the foothills of Mount Bermium. Two other scholars said it was located in the foothills of Mount Olympus. Which one is correct?
Ancient Berea is now the modern Greek city of Veria. I couldn't tell you the closest mountain, but Mt Olympus is a considerable distance away.
Some have theorized that Galatians is the old existing letter in the New Testament, and the letter James was written shortly after it. They assert that James was written as a response to certain misrepresentations that were circulating about Paul and his teachings. Do you believe this theory is plausible? If not, what can you point to that would discount it?
I believe the letter to the Galatians was written to the churches Paul founded on the first mission. That would be the "South Galatian Theory."
Accordingly, Galatians was one of Paul's first letters. James was probably written after Paul's letters to the Galatians and Romans and James addresses a misunderstanding of Paul's pronouncements on the role of works in salvation.
Do you believe that both Trophimus and Tychicus were part of the church in Ephesus? (Acts 20:4)
Acts 21 tells us that Trophimus was an Ephesian. Acts 20 tells us that Tychicus was from Asia. The Western text claims he was from Ephesus.
Regarding your film THE LAST APOSTLE, I'm wondering if you've ever thought about creating a film that used CGI and other technology to construct what the places Paul visited actually looked like during his day. So instead of seeing the ruins, seeing the cities as they probably appeared.
We are in the planning stages of doing another documentary. I will meet with the producer in two weeks. The budget for the first documentary was very small and the budget for the second one will probably also be small.
They are trying to do some crowd sourcing to raise some money. The Last Apostle on Amazon Prime was watched by over one million people and was very well received. I have received well over a hundred emails from people who have watched it and they would like to see another one.
The problem is that everything costs money. This includes not only the travel costs, the filming and editing costs, but also the narrator, the music, the illustrations and so on. Using CGI would be terrific, but I am afraid that the costs are beyond what this production can afford. On the other hand, if another production company wants to collaborate with this film, we could probably do much more.
To my mind, this would be fascinating as well as highly educational, but it would take someone like yourself who has this knowledge along with a team to create the reconstructions using computer imagery. What are your thoughts on this? And has it ever been done before?
There are reconstructed photos that I've seen for Ephesus and a few other places, but I have not seen much for animated reconstructed film. This would be nice.
What else would you like readers to know about your book?
The book is an attempt to describe the ancient history, culture and life of the Christian communities in and around Ephesus. This takes into account the ancient literary sources (the Bible, the patristic writings and secular writings) along with the recent archaeological discoveries at the sites.
I try to avoid technical jargon and there is a glossary in the back for several terms that might be unknown to the readers. Twenty of the earliest Christian communities are in the volume, including several that are never mentioned in the Scriptures.
I might also mention that I have a volume that I've submitted to a publisher on a recent discovery at Nicaea. In 2014 an underwater basilica was found a short distance offshore of Nicaea. I was invited to join the research team and last year I was awarded a Fulbright Senior Research Scholarship to work at the site. My research has concluded that this basilica was the church where the First Council of Nicaea met and the Nicaean Creed was written. Keep your eyes open for this.