At one time, I subscribed to five different Christian periodicals. Today, I only subscribe to one.

It's Searching Together.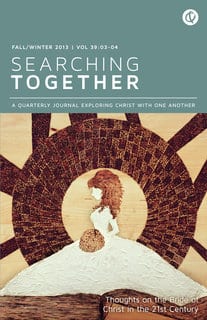 Searching Together began in 1972 with Norbert Ward as the founding editor. Jon Zens has been editor since 1978. Norbert made this statement in 1972, and we continue his sentiment: "[We] make no claim to be the voice of a movement or an organized denomination. We do not, on the other hand, claim to be a lone voice. We believe we are expressing the hope and earnest prayer of concerned believers."
2014 is the 40th year of
Searching Together's
publication. And they will be issuing a special edition of
ST
  that you will not want to miss.
I read ST because it is always cutting edge and Christ-centered. A year's subscription is only $10.00.
Click here to subscribe to Searching Together
Are you subscribed to ST?