Every other day this month, I will be sharing excerpts from some of the chapters in my new book ReGrace: What the Shocking Beliefs of the Great Christians Can Teach Us Today.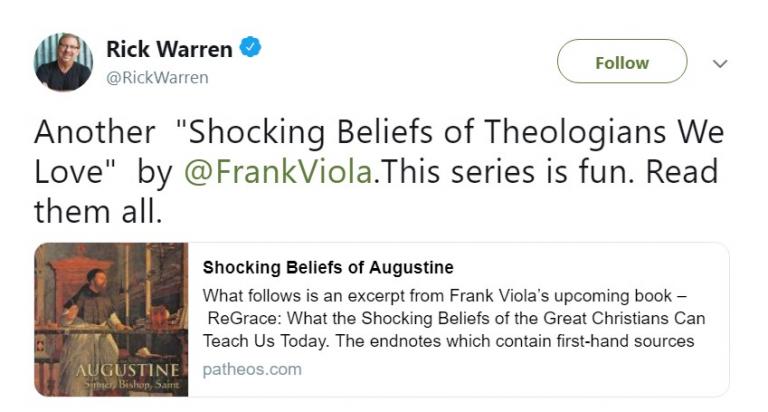 In November 2014, Rick Warren asked me to write a series of articles called "Shocking Beliefs of [the Great Theologians]" on my blog.
The series had but one objective. To call for grace, civility, and tolerance among Christians when they disagree with one another over doctrinal issues. Since even the "greats" had flawed views on a number of issues, we can be more patient with other believers when we feel they hold to a flawed viewpoint.
Due to popular demand, we have expanded the series into a book which is scheduled to Spring 2019.

Here is the Table of Contents:
1. Why This Book? 13
2. 'Tis Humor 21
3. We Know in Part 23
4. Honoring Those with Whom You Disagree 27
5. It's Not a Bloodsport 31
6. The Shocking Beliefs of C. S. Lewis 35
7. The Shocking Beliefs of Jonathan Edwards 43
8. The Shocking Beliefs of Martin Luther 53
9. The Shocking Beliefs of John Calvin 69
10. The Shocking Beliefs of Augustine 81
11. The Shocking Beliefs of John Wesley 97
12. The Shocking Beliefs of Charles Spurgeon 103
13. The Shocking Beliefs of D. L. Moody 115
14. Seven Shocking Statements by Billy Graham 125
15. The New Tolerance 131
16. You Just Might Be a Pharisee If . . . 133
17. Twenty Reasons Why the Christian Right and the Christian Left Won't Adopt Me 139
18. So You Think You Disagree? 147
19. The Art of Being a Jerk Online 153
20. Warning: The World Is Watching How We Christians Treat One Another 159
21. Misrepresentations 167
22. Possessing a Mind to Suffer 171
23. The Essentials of Our Faith 173
24. Who Are the Real Heretics? 181
25. They Are Our Teachers 191
Acknowledgments 195
Notes: A Word to Scholars 197
You can order the book at ReGrace: What the Shocking Beliefs of the Great Christians Can Teach Us Today.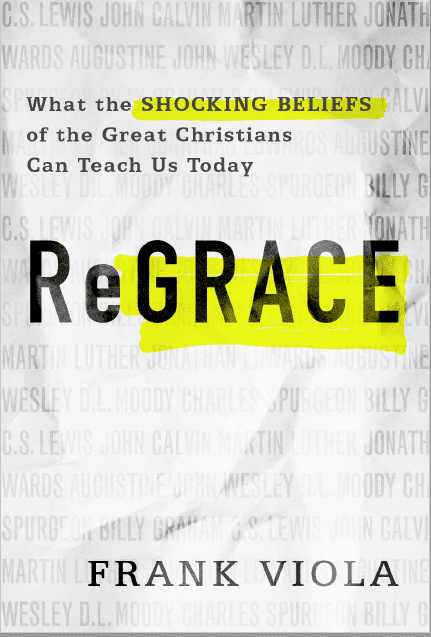 Back Cover Description
The church is tired of seeing Christians act ungraciously toward one another when they disagree. Social media has added to the carnage. Christians routinely block each other on Facebook because of doctrinal disagreements. The world watches the blood-letting, and the Christian witness is tarnished.
But what if every Christian discovered that their favorite teacher in church history had blind spots and held to some false–and even shocking–views?
Bestselling author Frank Viola argues that this simple awareness will soften Christians when they interact with each other in the face of theological disagreements.
In ReGrace, he uncovers some of the shocking beliefs held by faith giants like C.S. Lewis, Luther, Calvin, Moody, Spurgeon, Wesley, Graham, and Augustine–not to downgrade or dismiss them, but to show that even "the greats" in church history didn't get everything right.
Knowing that the heroes of our faith sometimes got it wrong will empower us to treat our fellow Christians with grace rather than disdain whenever we disagree over theology.
Order ReGrace: What the Shocking Beliefs of the Great Christians Can Teach Us Today.