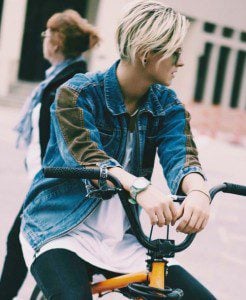 Our youngest daughter, Hannah, recently came out on Facebook. (Our second LGBTQ child.) It was the most amazing post! We had known for some time – but her public post came as a surprise to us and the response she got was overwhelming.
I wrote this note for her and want to share it with you – and with all the others out there who might still be in the closet, or in pain from rejection. To those not receiving the blessing and affirmation they so deserve from their parents. To those confusing the truth of God's love for them with the lies of condemnation and judgment they may have heard from their church and from those who claim to speak for God. Those not yet able to let their true colors come out.
These words are not only for my daughter, they are for you…
Dearest Hannah,

YOU are amazing. You have seriously challenged our world with your fearlessness. You have grown from the youngest of five looking for how you fit in the family, to an outrageously bold young woman making your voice heard! As you push forward, barriers collapse, paradigms shatter.

I am ridiculously proud of who you are, and who you keep becoming.

We supported you when you came out to us a few years ago, long before your coming out post on Facebook. But your post was a complete surprise to us! We read it with smiles – and thought, "That's our Hannah!"

I remember you climbing the jungle gym at 2 years old, dangling from the bar, three feet off the ground! I remember you speaking up for yourself, boldly and directly. You face the world with more courage than most – and courage is how we were designed to live!

Your truth, your love, your heart, your authenticity, your courage shows up in your music, your friendships, your spiritual life… in everything you do.

You have faced things I will never face. You are stronger and braver and bolder than you know.

You inspire me.

I wouldn't change a single thing about you.

If only all the other LGBTQ young adults out there felt that they had a safe space in front of them to be as free as you. I have hope, and that's the world we're working together to create.

I am blessed to be your Mommy.

I love you.