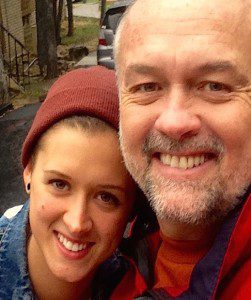 One of every four homeless LGBTQ become homeless the day they come out. 40% of all homeless youth are gay. 70% of those attempt suicide. Will you be a Dad that protects your child from that future? Or will you be a Dad that kicks your child to the street?
Being gay is not a choice. Whether or not you unconditionally love, accept and affirm your gay child is. It is your choice alone, and you need to understand that there are natural consequences for each – in the life of your child, and your family.
This is Rob, Susan's husband, writing today. I am the father of five children, two of whom – Annie and Hannah – are in the LGBTQ community. I want to share with you three real responses from other Dads of gay kids.
Which one is the most like you?
The first is a letter from a father to his gay son. It represents the worst fears of a child when they come out to their parents. Unfortunately, it is all too common.

James:

This is a difficult but necessary letter to write. I hope your telephone call was not to receive my blessing for the degrading of your lifestyle. I have fond memories of our times together, but that is all in the past. Don't expect any further conversations with me. No communications at all. I will not come to visit, nor do I want you in my house. You've made your choice though wrong it may be. God did not intend for this unnatural lifestyle. If you choose not to attend my funeral, my friends and family will understand. Have a good birthday and good life. No present exchanges will be accepted.

Goodbye.

Dad
The second is a father's surprise text to his gay son and is full of love and acceptance.
Nate,

I overheard your phone conversation with Mike last night about your plans to come out to me. The only thing I need you to plan is to bring home OJ and bread after class. I've known you were gay since you were six. I've loved you since you were born.

—Dad
The third is from a Dad who still has lots of unanswered questions, unresolved concerns – but he is erring on the side of love. If this is where you are, maybe this letter can offer a place to start as you respond to your gay child.
Son,

First thing I want you to be sure of is that we love you, always have, always will. We are proud of you. We admire the young man you've become. Thank you for telling us about this part of you. I can only imagine how difficult it was for you to say to your old mom and dad! You already know that homosexuality goes against our beliefs. But we are going to pray to God to help us see this from His perspective, apart from the culture and the church. I admit we are also concerned for you—mostly because this world can be cruel and we don't want you to be hurt. Know that we will do our best to protect you. I realize you may be tempted to protect us from family and friends who disagree with homosexuality. We want you to know that you are not to concern yourself with that. That is our job as your parents. No matter what, we love you and would never do anything to hurt you.

Dad
Which letter is most like you?
I also want you to realize something… we don't always respond initially the way we wish we had. Many parents express remorse at words they wish they could take back. Go ahead and take them back. This does not make the wound go away, but it's a start. Make sure you have apologized and asked for your child's forgiveness. Those are good steps to right any wrong.
And then accept your child's forgiveness.
I mean that. Please hear my heart on this: your child is grace-giving. They understand what it is to say something in the heat of the moment. We've all been irrational, demeaning, or cruel. I believe they are willing to forgive; they're just glad to have that weight lifted from their shoulders. They're glad to realize you still love them.
And Dads, and Moms too, then it's time to step up and defend them! Stand up, speak up for them – to your church, your relatives, your friends, their school leadership, or others as appropriate, and as your child asks.
That's what family is there for. That's what it is to love.
To have a gay child is one of the greatest blessings of my life. It can be for you too.
– Rob
p.s. Dads, if you need support from other Dads going through a similar journey, please contact me.