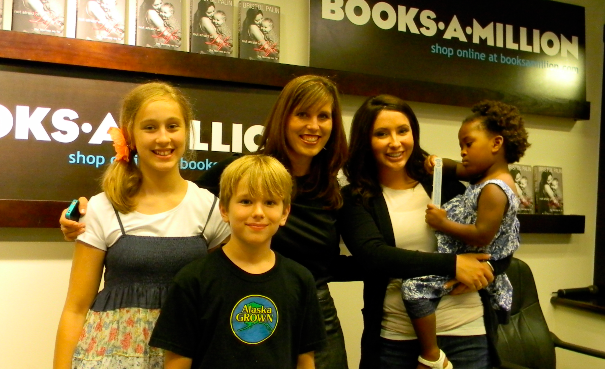 Wecome to the SixSeeds Summer Beach Book Giveaway!Leave a comment below for a chance to win Bristol Palin's New York Times Best Selling memoir!
How I ended up co-writing "Not Afraid of Life"
My friends and I huddled around my iPhone, as we listened to my agent's voicemail.
"Nancy, Harper Collins wants you to submit your resume for an opportunity to write for a young Christian celebrity," he said.  "But I can't tell you who it is."
I never considered myself a "ghost writer," since I've published my own memoir about being a southerner living in New York and a book about Iraq I co-authored with my husband about his deployment and it's effect on our family.  I was definitely interested, however, and the mystery only deepened my interest.
Immediately, my friends and I began guessing. Miley Cyrus? Taylor Swift?
Because I live near Nashville, Tennessee, I assumed they were interested in my geographic location as much as my writing ability.  Surely, an up-and-coming country musician needed help with her book, and I was exactly the kind of local writer who could pop in and out with minimal inconvenience.
That's why I was surprised to get a call from Harper Collins a few weeks later – after I'd figured I'd been passed over for a more typical ghost writer (excuse me, "collaborator"). "Can you be on a call with Bristol Palin in one hour?"
Immediately, I figured I wouldn't get the job. Though I'd "collaborated" before, my efforts haven't yet been published.  Surely she'd want someone more experienced for a book that would be analyzed, dissected, critiqued, and attacked.  Bristol was noncommittal in that first conversation, and ended it by saying "I just need to talk to my mom."
I tried to imagine that conversation, Momma Grizzly herself having a discussion with her daughter about me – a writer who lives in the Mule Capital of the World, Columbia, Tennessee.
It seemed too surreal to be true.  Within days, however, I was in Wasilla, Alaska.
"I can stay on your couch or wherever in your apartment," I texted Bristol on the way. "I won't be a nuisance."
She sent me an address, and I was certainly surprised when I drove up Todd and Sarah Palin's driveway.  Ice cemented the ground under the snow, and Christmas lights decorated an iron gate.  (White lights or colored?  Guess in the comments section.)
"This is my parents' house," Bristol said as she came out to greet me. She looked great – young and fit in her yoga pants and North Face jacket.  "You'll be staying here."
She led me to where I'd be living for the next month, in a detached building on the Palin's property, where Gov. Palin films her Fox interviews.  In fact, I frequently wrote perched high in her chair, with a frozen Lake Lucille outside the tall windows.  Cars drove by slowly on the lake, no doubt taking photos of their house.  Some did "donuts" and skidded around on the ice.  A couple of guys were ice fishing.  A moose slowly ambled across the frozen water and made his way to the Palin's house.
In fact, meeting the family was like walking into the TLC television show, "Sarah Palin's Alaska" – a series I watched in its entirety on my flight. Bristol's maternal grandparents Chuck and Sally Heath were there, as well as Todd's dad.  Sarah was busy in the kitchen making moose hotdogs (much better than regular hotdogs… and these had cheese in them!) and salmon.  Track was sitting with his fiancé, who is now his wife, in the entryway of their house.  (Track had been deployed to the same province in Iraq where my husband, David, served.)  Willow – who has a very striking appearance with her dark hair and eyes — sat on the couch with her feet on a bear rug, while Piper came in and out of the house with friends. Tripp and Trig tossed a ball around the house.
That's how I got acclimated to Alaska… moose hot dogs, family, and playing with the kids on the floor.  Then, Bristol and I tackled the difficult task of documenting her life. Thankfully, she's young, which meant we didn't have to search attics for fifty year-old, faded letters.  Plus, I was thrilled to learn that she kept journals of challenging times in her life.  These writings documented her exact feelings in various moments, before time softened the memories.  So, we sat and read all that she had written. One day, we sat with magazines and notes spread out on the floor, along with letters to – and from – Levi, lots of photos, and other trinkets.
"This is it," she said.  "My life."
She wanted to be candid, she explained, so that other girls could learn from her mistakes.  That meant a lot of very hard conversations about tough times.  I felt at times that I should've shown up in Wasilla with a sign: Hello, I'm Nancy, and I'm here to scrape the scab off your deepest emotional wounds.
But Bristol, tough and honest, went through her life with me, year by year, event by event, as we drank coffee and watched the moose walking by outside the windows.
And that's how I became a part of the Palins' lives – lives that are shaped far less by politics than by the ordinary concerns of hearth and home.   We went bowling with Trig and Tripp, had our photo taken as we ordered coffee, and shopped at Costco. Later, I'd stay with Bristol in her beautiful Arizona home, where people would honk at her on the interstate when they'd see her customized Alaska license plate.
Why tell a story like Bristol's?  She's only twenty, people have repeatedly complained. However, these detractors are missing the point. While most of us haven't made mistakes in front of a gawking nation, all of us have done things we regret… mistakes that seem innocent enough, but end up changing the trajectory of life.  Her story is ultimately a story of redemption – a story of a girl who admits her mistakes and acknowledges God's mercy in her life.
After all, she began the entire book with this sentence: "I lied to my mother."
In spite of all her efforts to take responsibility, however, the Palin-haters came out in full force within seconds of the book's publication.  In those seconds, they somehow found the time to read the entire book (poorly-written, they say) and pronounce it full of excuses.
Full of excuses?  They obviously hadn't even creased the spine.
Eventually, the Palin-haters and the Palin-lovers evened out the Amazon ranking to a 3 Star.  Out of 105 reviews, forty-four are 5 star and fifty-three are 1 star.  One lonely reviewer gave it a 3 star review.
Has there been a more polarizing political family?
This fact alone makes Bristol's story interesting.  What was it like to have the biggest mistake of your life analyzed in front of half of America who idolized you and the other half who despised you?  And what if that biggest mistake turned into the biggest blessing of your life?
Life is complicated, God is good.
That's the message of Bristol's book, and I'm honored to have been a part of it.
BOOK GIVEAWAY Leave a comment for a chance to win Not Afraid of Life!
On July 20th, we will pick a name in a random drawing from all eligible entries received and send you an email notification.  Limit one (1) entry per person; NO PURCHASE NECESSARY TO ENTER OR WIN. Open only to legal residents of the 50 United States and Washington D.C. who are 18 or older as of date of entry.

You might also enjoy:
Connect with Me Further by: