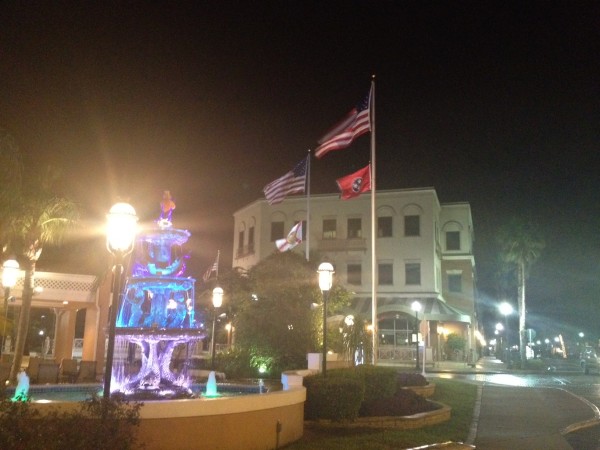 With the hurricane threatening and the delayed schedule, David and I decided to drive to Tampa.  We love a good road trip – wanting to try out the Sirius radio and our new (to us) Honda Pilot, as well as conversation!  There's simply no way we were going to face a possible hurricane evacuation and have to depend on public transportation or GOP convention buses.
The walk through the garage, still full of old Evangelicals for Mitt gear, was a walk through memory lane.  There was the old "Romney" hat that had the "O" as the center of the Tennessee flag which we wore at the 2006 Southern Republican Leadership Conference.  Remember that? When Southerners in Memphis, of all places, voted "the Yankee Governor with Southern Values" second in the first Presidential Straw Poll for 2008.  Then, there are the gigantic piggy bank-inspired signs (which the New York Times featured) from the 2010 SRLC, when Mitt came in first in New Orleans.  Of course, I found a couple of "Evangelicals for Mitt" buttons from the Values Voters Conference.  (Our least favorite conference, because I was shouted down in the elevator by the misguided Huckabee supporter and later kicked out of the conference.  Good times.)  And, of course, there were the Mitt buttons from CPAC.  To be completely honest, I got a little teary as I walked to the garage to the car on our way to the conference where Gov. Romney will officially be named the standard bearer for conservative values.
Anyway, we had a nice drive, reminiscing about old times. People told David and me– at every step of the way since 2006 – that Mitt would never be able to secure the nomination, that evangelicals would never support him.
Then, how surprised we arrived and were welcomed by the hotel flying the Tennessee flag in honor of our delegation!
This week, I'm going to wear one of those old dusty hats and a big rectangular button.  I'm going plan to wear them proudly when we cast our vote for "the Yankee governor with Southern values."  We also hope to reunite with the original Evangelicals for Mitt group.  (Charles, we'll have a drink in your honor.)
Anyway, congratulations, Gov. Romney.  And thanks to all of our loyal readers who've been here every step of the way. You are more than just anonymous comments under blog posts.  We're so proud to call you friends.