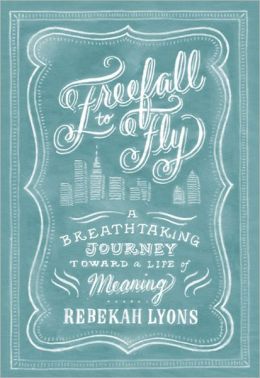 Rebekah Lyons new book Freefall to Fly: A Breathtaking Journey Toward a Life of Meaning bravely shares her battles with anxiety and depression as well as her search for meaning as a Christian mom of three in New York City.
We're giving away three copies of the book. Just leave a response in the comments section to enter the contest. (One entry per household, please.) We will announce the winners on Wednesday, May 15. UPDATE: As we updated our blogging platform, some people who wanted to enter weren't able to do so. We're so sorry! We want everyone to have a chance to win these books, so we're extending the window until Monday, May 20.
For people who order online, there are three additional gifts waiting for you. That's a little unexpected blessing, right?
Go ahead and read this excerpt from Rebekah's book and let us know if it resonates with you.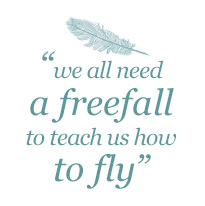 Book Excerpt: Stay in the Freefall
My greatest fear is feeling trapped—it has followed me all my life. When I sense this feeling coming around, I run. Fast, to a place where I can be free. To a rich place that surely will understand me more. A place of new beginnings, where I start fresh and leave the aftermath behind. Seasons of my life beat out that sequence. Leaving home for college fifteen hours away and never looking back. Getting married and moving to Georgia—a chance to restart again. Thirteen more years bring me to where I sit in my present. With New York forcing me to look back for the first time. Back to the earliest memories that shaped who I am. Into a rearview mirror that showed my patterns. The patterns of running from pain. Of forging ahead and striving for something more, something better. Something just out of reach.
But what I was hearing for the first time was that the fear of entrapment was running right along with me. Following me. Chasing me. Changing my circumstances wouldn't give me reprieve, just a new setting. Escape was shortsighted and would only land me back with this frenemy of mine, entrapment. I was getting it.
Stay.
To stay in the freefall meant to stop running.
To stop avoiding the pain. To embrace the struggle. To settle in with the lament. To get cozy with my nemesis. Because it was working something out in me that was buried deep. Locked down for a number of years. Wounds that had been planted long ago were starting to show their ugly heads. I was scared. But I needed to give them room to surface. To let them out.
As we experience our rapid descents, how many of us reach out for anything we can grab to break our fall? To escape the pain. To find a way to numb out. We don't believe God will actually rescue. So we sidestep. We look for a shortcut. Any way out. Because it hurts too much, and it has gone on for far too long. We are weary. Frankly, we are angry that it has gotten this hard. We've complained so long, even we are sick of hearing ourselves, never mind the effect it's having on those around us.
So we stew, choosing to escape to another world. Another fantasy—a life that is different from and better than our own. Better than our current circumstances, which seem to have fallen short of our expectations. Better than the life that has let us down and shows no signs of improving.
I was reminded by a dear friend, "If you are in hell, keep walking." Because somewhere along the way, if you stay in the place where your heart breaks and you put one foot in front of the other, the darkness will eventually lift. The crack of light will burst forth on the horizon, far, far away. It will be the slightest breath of hope. Just like the word stay was for me. You won't know what that light will yield, but the mere fact that it us light will be enough.
It will keep you going.
An hour had passed since my head hit the pillow, and slumber beckoned. I conceded. Drifting off to sleep, I accepted my failures. I embraced the fall. But in my final thoughts, I wondered if someone would be there to catch me.
UPDATE: The winners are Jada, lovethebdn and Krista! Congratulations!