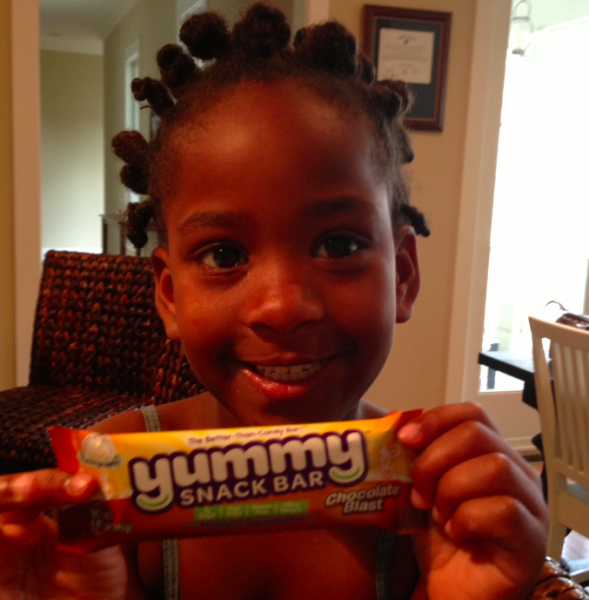 Recently, I wrote about YummyHealth's amazing new products for people hoping to develop a new strategy for their kids' health! I'm happy to announce that the company has agreed to send five hundred of our readers a free sample kit. Sign up below!
a Rafflecopter giveaway

The package includes one YummySnack bar, in their Chocolate Blast flavor! It's lower in sugar than the leading candy bars and is also high in fiber, with 100mg of Omega 3s. It has energizing nourishment from coconut, cocoa, flax seed and almond butter, and goes great with a cup of coffee! Oh, these are supposed to be for your kids? Well, this sample kit can help you determine if you want to splurge for the whole box. The bar is gluten-free and have no high-fructose corn syrup, hydrogenated oils, trans fats, artificial flavors, preservatives or food dye.
Also included in the package is a bag of snack chips. The YummyHealth website describes them as "Our chips are unlike others you've seen on the market. Instead of processed wheat, corn or potatoes, our chips are made of 99% real Wisconsin cheese, and a touch of wholesome seasonings. What your kids get is a fun, crunchy, delicious swap for their favorite junk chips and crackers that's loaded with protein and calcium! What they don't get are hydrogenated oils, trans fats, gluten, or artificial colors, flavors, and preservatives."
Plus, YummyHealth will include a promo code for a 20% discount off the first order.
This is just one of the perks of being one of my readers. Thank you and stay tuned for more giveaways from the SixSeeds Faith and Family Channel!