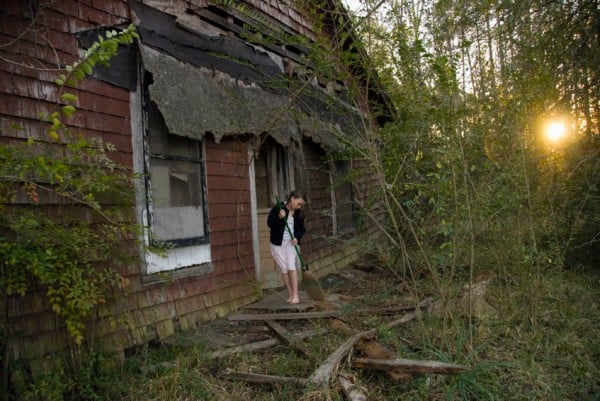 My old hometown newspaper, the Lexington Herald-Leader, is running an outstanding series of articles on the deep and persistent poverty of Appalachia. It's worth studying long-term poverty in Appalachia not just because we care for our fellow citizens but also because the plight of the Appalachian poor in fact galvanized LBJ to launch the War on Poverty.
On Sunday, Herald-Leader writer Jon Cheves took a long, unblinking look at the culture of dependency that dominates Eastern Kentucky's poor counties. It's an outstanding piece.
To get a sense of the extent of government dependency in some Kentucky counties, in Martin County, Ky. (a county LBJ visited), consider this: Income from government transfer payments exceeds all income from wages and salaries — a ratio that far outstrips the national average.
To be fair, since the War on Poverty began, poverty has fallen from its astronomical mid-20th-century highs:
Hundreds of billions of dollars more poured into the region as welfare, food stamps, jobless benefits, disability compensation, school subsidies, affordable housing, worker training, economic development incentives, Head Start for poor children, and expanded Social Security, Medicare and Medicaid. Martin County alone has collected $2.1 billion in government transfer payments to residents since the late 1960s.

Life improved, to a point.

Poverty rates dropped dramatically across the United States. Take a map of the country and a pen. Color the counties black where more than one in three people live in poverty. In 1960, nearly all of the Southeast, including Kentucky, would be black. By 2010, only a few such pockets of poverty remained, including the Mississippi Delta, the Texas-Mexico border and Eastern Kentucky.

However, even in Martin County, deep inside Eastern Kentucky the poverty rate has been nearly halved, to 37 percent, since Johnson's visit.
But is the War on Poverty truly responsible for the improvement? What about free enterprise?
Martin County's sole economic surge in 50 years came from the coal boom of the late 1970s and early 1980s, prompted by the Arab oil embargo. The Norfolk and Western Railway spent $22 million to connect the county's largely untapped coalfields with its West Virginia rail lines. It paid $2.6 million more to acquire 98,600 acres of surface and mineral rights, which it leased to Ashland Oil, Mapco, A.T. Massey and other coal companies.

Unemployment dropped from nearly 40 percent during Johnson's visit to 4 percent during the coal boom. Per capita income rose from $1,000 a year to $7,000.

"LBJ didn't do a damn thing," local historian and poet Rufus Reed, then 87, told the Martin Countian newspaper in 1982. "It was the coal companies that brought Martin County out of poverty."

But coal is a boom-and-bust business. Today, coal mines are closing here and throughout Central Appalachia, struggling to compete because of cheaper natural gas, more accessible coalfields in the West and stricter federal pollution laws.
So the government giveth (disability checks) and it taketh away (attacking the coal industry).
One thing that is clear, however, is the dependency state is not a happy place to live. People get by on government assistance. They do not thrive:
"A lot of people here have just given up," said Kathy Howell, 51, who lives in Martin County.

In 1977, at age 16, Howell dropped out of 11th grade in Kermit, W.Va., right across the Tug River. "Just didn't like it no more," she said. She moved to a plot of creekside land near Inez to marry a local boy. They had three children.

Today, Howell shares a trailer with her husband, a grown daughter and six school-age grandkids. The family gets about $2,100 a month, mostly from her disability check, food stamps and spare cash from relatives. She suffers from asthma and other lung ailments that make it impossible to work as a waitress anymore, she said.
In fact, it's tough to overstate the importance of disability checks to the region.
Congress limited traditional welfare in 1996, imposing work requirements and five-year lifetime caps. Claims of mental and physical ailments now echo through the mountains. Disability checks — yielding as much as $710 a month per person — have become the go-to form of relief. Martin County's stagnant population has seen a 14 percent jump in disability enrollment since the 1990s, which doesn't count claims pending or on appeal.
Perhaps most disturbing of all — for those who seek private intervention to alleviate poverty and transform lives — it appears the avalanche of government aid inoculates the region against effective charitable assistance. In a separate report, Cheves details how charitable dollars also flow into Appalachia, to no discernible effect. In fact, local residents are often all too happy to let private volunteers do repair work they're perfectly capable of performing themselves — sometimes leaving homes in disrepair until the annual summer influx of college students, all eager to help.
The tragedy of government dependence is the tragedy of the slowly-dying human heart — the loss of hope and the rejection of any personal revitalization that requires more than a bare minimum of effort (followed by immediate and dramatic rewards). In my own time working with at-risk youth in Kentucky, my wife and I found it extraordinarily difficult to compete with the no-strings-attached federal money, where it was all too easy to reject any true reform or true personal initiative in favor of the life they knew. The only thing that worked was intensive, one-on-one mentoring that began at an early age.
Simply put, once a kid has been raised to be dependent, to feel helpless in the face of larger, impersonal forces, it is extraordinarily difficult to change course. Waiting for another coal boom is not a plan, but policy-makers should also understand that economic and environmental regulations can carry enormous personal and social costs. Are Americans better or worse off now that it's much harder to profitably mine coal? Is our nation truly "healthier" — spiritually and physically — now that miners draw disability checks rather than create energy?
Americans are a compassionate people. It's tragic that our compassion is not only bankrupting our nation's finances; it's damaging the very spirit of the people we so want to help.