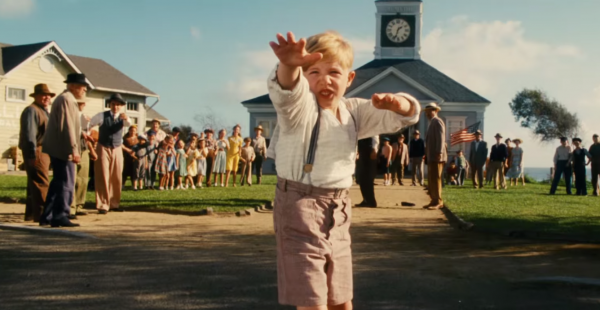 I'll never forget.  The kids and I wanted to do something to get our minds off their dad's deployment to Iraq, so we went to the movies.
We chose Water Horse — a movie about the Loch Ness monster.  Should've been "safe," right?
Um…. no.
In the first five minutes (of an otherwise wonderful film), it is revealed that the kid's father is a sailor in the Royal Navy and has been missing since his ship was sunk.  The child marks off the days until he comes home — not realizing his dad won't ever come home.
My 7 year old looked at me with tears in her eyes.  The calendar he used to mark off the days was JUST like the one she and her little brother used every day until their dad came home.
"Is his dad dead?" she asked.
It was a punch in the gut from which it was hard for the kids (and me!) to recover.
This new movie by Mark Burnett and Roma Downey looks like another tear jerker that touches on the dad-at-war idea.  Though I'll have to work up the emotional fortitude to sit through something like this, it does look like it grapples with faith and courage in an interesting way.  Starring Emily Watson, Ben Chaplin, Cary-Hiroyuki Tagawa, Ted Levine, David Henrie and Eduardo Verastegui (whom you may have seen in Bella), its main star is Jakob Salvati as the "Little Boy"–  a 7-year-old who attempts to use his "faith the size of a mustard seed" to bring his dad home from war. It's getting acclaim from Hollywood already:
"[The] 'Little Boy' performance is so authentic, natural, moving and inspiring it will make you a better person." — Eva Longoria, actress/producer

"'Little Boy' is such a winner.  It really moves everyone when they see it." — Tony Bennett, singer

"An instant family classic that is utterly unique but reminiscent of films like 'E.T.,' 'Sound of Music' and 'Life Is Beautiful.'" — Mark Burnett.

"'Little Boy' is one of those movies that will touch your heart forever.  It is one of the most emotional truly beautiful stories, that little boy is magical." –Paulina Rubio, singer/actress

"Deeply, moving, utterly amazing." –– Jewel, singer
(Also check out Patheos Catholic Channel's Kate O'Hare who has more from the production company here.)
Here's their official trailer, for the film that comes out April 24th: