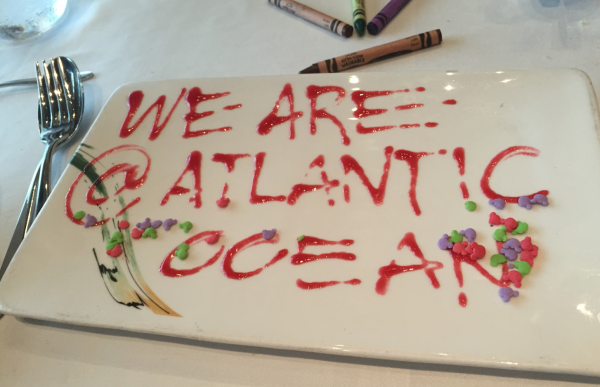 It may seem we're pretty connected during this cruise, but – trust me – it's not easy to stay connected to work while we're gone. The internet is slow, unreliable, and expensive, so we're using it pretty exclusively for work.
That means anytime we wonder something, we're forced with actually not knowing. No one can simply google the answer, which is what we've gotten use to doing ever since everyone has gotten smart phones. Camille started a list of "things to Google once we have internet," and I believe the list provides a strange insight to the French family:
Does Juliet survive the nuclear explosion to exchange final words with Sawyer before dying on "Lost?"
What does a shipping container house look like?
Is the Prospector on Toy Story 2 Frazier on Cheers?
Does eating ice indicate an iron deficiency?
What arms do you get in Pancake?
Did Dwayne the Rock Johnson ever have a beard?
How much does Dwayne the Rock Johnson weigh?
What is the significance of A113 in films?
What was Dwayne the Rock Johnson cooking?
What were the legal grounds for divorce in 19th Century England?
So there's that. (If any of you want to google them for me, I'll pass the info along to the kids.)
The Disney Cruise apparently is starting a new deck party called Frozen's "Freezing the Night Away" – the rumor is that they are beginning to do this as a replacement to their typical "Pirate Party." (Why do we celebrate pirates, by the way? Aren't they pretty reprehensible?) On the top deck last night, they were filming the promotional commercials for the new Frozen party night – complete with hired enthusiastic deck dancers. Camille, Austin, and I went up there and got to see the full dress rehearsal. It looks super cute – if you are going on a Disney cruise soon and have little ones who love Frozen, I doubt you'll be disappointed. They asked us not to film or take pictures of the dress rehearsal, but suffice it to say that they have a "real life" Anna, Kristoff, and Elsa, with an animated Olaf on the big screen above. The kids will enjoy sing alongs of all of their favorite Frozen songs… including a "Let It Go" rendition that was pretty jaw dropping. They had fake falling snow and snowflake sky lights. I don't think we have this party on board the Trans-Atlantic cruise, but I heard it started next week. Super fun to get that sneak peak!
We're a little sluggish today and here's why. First of all, we lost hour last night… the second in a row. I think we're six hours ahead of Tennessee time, though it's hard to keep track of such things as time and days. But here's what really what set us back.
We were watching a movie on our state room television which ended right at midnight. David said to the kids, "Alright, go to bed." Then, he added, "But let's first see what's coming on next. If it's something awesome, we'll watch it."
The kids looked at each other. "But it's past midnight and we lose an hour."
"Only if it's awesome," David said.
A few seconds later, the preview for the next movie flickered across the screen. It was: "Up."
Every rejoiced, "It's awesome!!!"
So, we settled in and watched, "Up," until two o'clock, lost an hour, and slept til 11.
We lose another hour tonight, which is the last hour we'll lose.
Today, the waves were 10 feet swells, which made jogging quite hilarious. On Deck Four, we have to "pass on the left" and frequently, people would run into each other as the deck went unpredictably up and down. Also, it was so crazy to run on what seems like a flat deck when you are actually running up hill – for five seconds until you're running downhill. Very strange sensation – love the North Atlantic!
Read more in this series:
Day One, Trans-Atlantic Disney Cruise: Anchors Away
Day Two, Trans-Atlantic Disney Cruise: Medical Evacuation
Day Three, Trans-Atlantic Disney Cruise: College Admissions Conversation?
Day Four, Trans-Atlantic Disney Cruise: The Gut Punch of New York
Day Five, Trans-Atlantic Disney Cruise: Day at Sea
Day Six, Trans-Atlantic Disney Cruise: Nova Scotia
Day Seven, Trans-Atlantic Disney Cruise: I Didn't Know Cinderella Was Real
Day Eight, Trans-Atlantic Disney Cruise: The Worst Thing About This Cruise
Day Nine, Trans-Atlantic Disney Cruise: Three Racial Moments with Naomi
Day Ten, Trans-Atlantic Disney Cruise: Frozen's "Freezing the Night Away" and Internet Withdrawal
Day Eleven, Trans-Atlantic Disney Cruise: Birds
Day Twelve, Trans-Atlantic Disney Cruise: Not Living Up to Vacation Demands
Day Thirteen, Trans-Atlantic Disney Cruise: It's Not Over Until Someone Passes Out
Day Fourteen: Meeting the "Genie-Soul" of Copenhagen
Day Fifteen, Trans-Atlantic Disney Cruise: The End, the Numbers, and a Final Word