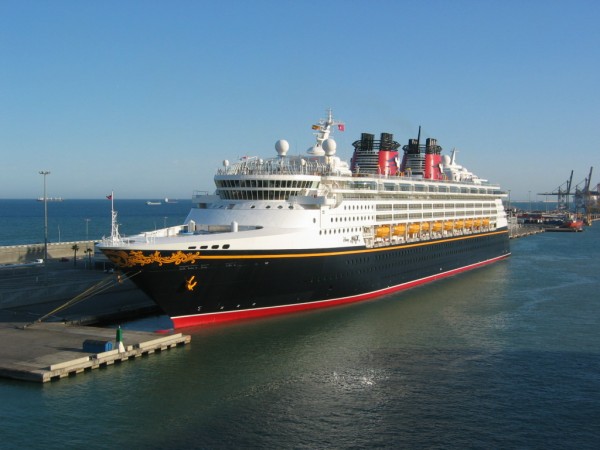 I am sitting on the veranda of our state room on the Disney Magic watching luggage and goods being carted onto the ship several stories below. The kids are inside waiting to do the mandatory emergency drills, and it's a balmy 80 degrees in Orlando, Florida as we wait to embark on our fifteen night journey.
We signed up for a cruise that goes from Orlando to New York to Canada to Iceland to Norway to Copenhagen. But the day before we left, we got this notice:
Due to excessive amounts of large pieces of ice off the coast of St. John's, Newfoundland, we will be unable to make our scheduled call at this port. Likewise, because of the distance needed to sail around these conditions, we will be unable to call in Reykjavik, Iceland, as well.
Here's our revised schedule:
Friday, May 15 — Port Canaveral, Florida
Saturday, May 16 — Day at Sea
Sunday, May 17 — Day at Sea
Monday, May 18 — New York, New York
Tuesday, May 19 — Day at Sea
Wednesday, May 20 — Halifax, Nova Scotia, Canada
Thursday, May 21 — Day at Sea
Friday, May 22 — Day at Sea
Saturday, May 23 — Day at Sea
Sunday, May 24 — Day at Sea
Monday, May 25 — Day at Sea
Tuesday, May 26 — Day at Sea
Wednesday, May 27 — Stavanger, Norway
Thursday, May 28 — Oslo, Norway
Friday, May 29 — Copenhagen, Denmark
Saturday, May 30 — Copenhagen, Denmark
Yes, you read that correctly. Six consecutive days at sea. How did we get into this?
We began doing Disney cruises back in 2003 when our pediatrician's family suggested we do a joint family vacation. That 4 day/3 night Bahama vacation was so fun that our family got hooked. When David joined the Army in 2007, we promised the kids that we'd go on a 7 night cruise when he returned from his Iraq deployment. Thanks be to God, we got to go on that one. (Many of his fellow soldiers didn't make it home, and we were particularly thankful for every Mickey bar we ate during that celebratory week.) Our 7 night post-war cruise was as relaxing and fun as ever. (Dare I say "magical?")
Last year, we decided to go on the cruise that had been calling out our name ever since we realized they offered it: a trans-Atlantic cruise. David had always wanted to cruise old-school — like Christopher Columbus did, minus the scurvy. Disney doesn't focus on going across the ocean like some cruise liners do. Rather, they need to reposition their boats every year to get the ships into Europe for their summer cruises there. Consequently, twice a year they offer Trans-Atlantic cruises. The one in the Spring goes east. Then, the one in the fall comes back west.
Last year, we jumped on the east-bound boat and ended up in Barcelona. We decided to go again this year, regardless of the destination… So, apparently we're headed to Copenhagen. I have to admit the only thing I know about Copenhagen is that it caused a circular ring on the back pocket of my dad's jeans when I was a kid.
Will we enjoy a cooler cruise? Will it be uncomfortable on the deck when we're so far north? Will jaded New Yorkers eye us suspiciously as we jump off the boat wearing Mickey ears? I have no idea.
But I thought I'd document this vacation in case any of you are considering a Disney cruise — or a Disney trans-Atlantic cruise specifically — to give you more information on what exactly goes on during the 15 nights we'll be on this gigantic floating boat.
Read more in this series:
Day One, Trans-Atlantic Disney Cruise: Anchors Away
Day Two, Trans-Atlantic Disney Cruise: Medical Evacuation
Day Three, Trans-Atlantic Disney Cruise: College Admissions Conversation?
Day Four, Trans-Atlantic Disney Cruise: The Gut Punch of New York
Day Five, Trans-Atlantic Disney Cruise: Day at Sea
Day Six, Trans-Atlantic Disney Cruise: Nova Scotia
Day Seven, Trans-Atlantic Disney Cruise: "I Didn't Know Cinderella was Real."
Day Eight, Trans-Atlantic Cruise: Losing Time
Day Nine, Trans-Atlantic Disney Cruise: Three Racial Moments with Naomi
Day Ten, Trans-Atlantic Disney Cruise: Frozen's "Freezing the Night Away" and Internet Withdrawal
Day Eleven, Trans-Atlantic Disney Cruise: Birds
Day Twelve, Trans-Atlantic Disney Cruise: Not Living Up to Vacation Demands
Day Thirteen, Trans-Atlantic Disney Cruise: It's Not Over Until Someone Passes Out
Day Fourteen, Trans-Atlantic Disney Cruise: Meeting the "Genie-Soul" of Copenhagen
Day Fifteen, Trans-Atlantic Disney Cruise: The End, the Numbers, and a Final Word