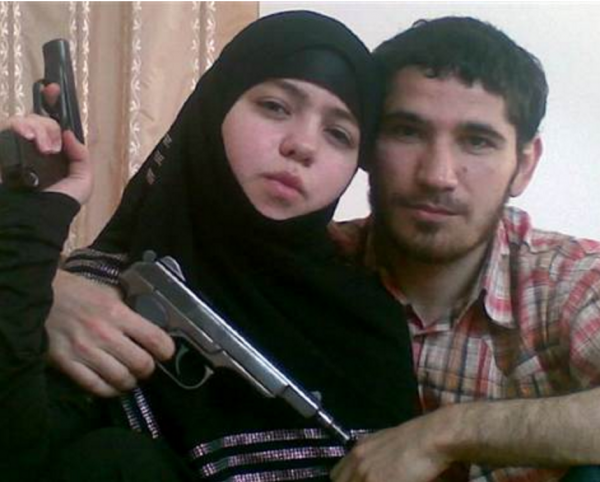 The words from the President of the United States of America after the French tragedy are not calm and reassuring.  They are filled with contempt – not for ISIS, but for Republicans:
But apparently, they're scared of widows and orphans coming into the United States of America as part of our tradition of compassion. First, they were worried about the press being too tough on them during debates. Now they're worried about three-year-old orphans. That doesn't sound very tough to me.

Hours later, a woman suicide bomber detonated explosives during a French police raid.  (He's shown a remarkable knack of timing lately, no?)  At National Review, David French is aghast at these ignorant remarks, no doubt intended to tweak Christians who take the Biblical admonition to "take care of widows and orphans in their distress."  He wrote:
Indeed, if he had a shred of meaningful knowledge of jihadist tactics, he'd know that female suicide bombers have been among the deadliest weapons of Islamic radicals. In Russia alone, so-called "black widows" are responsible for a deadly reign of terror:

The Black Widows are what Russian journalists call female Islamist suicide bombers who have participated in more than 30 attacks that have killed about 900 people in Russia since July 2001, when Khava Barayeva and Luisa Magomadova rammed their explosives packed truck into a Russian military headquarters building in the Chechen village of Alkhan Yurt.
He goes on to write about the
 "shahidka" (female martyrs) conducted effective attacks against civilians.
Why were they so effective?  Because people didn't suspect that women could do such a thing.  (Wait, isn't Obama supposed to be a feminist? Is he saying that women can't be militarily effective without husbands?)
Here's a report in The Guardian about a phenomenon apparently, the President knows nothing about:
Young women have been trained in their dozens to become suicide bombers in one Iraqi province in an attempt to reverse an improving security climate and derail talks about an upcoming security pact, Iraqi officials believe. The assessment follows the latest lethal blast on Sunday at a checkpoint outside a hospital in Baquba, which is believed to have been carried out by a girl as young as 13. Pathologists and police are still trying to determine her exact age and identity. The girl's death has taken to 27 the number of female bombers from the province of Diyala, 37 miles (60 km) north of Baghdad, in the past 18 months and has led to an urgent Iraq-wide security review, which is likely to involve more intrusive searches of women at checkpoints.
Once again, the President shows what he cares about: getting digs in at his perceived political opponents, at a time when nonpartisan cooperation against our real enemies is needed.
Read more on the Patheos Faith and Family Channel, follow Nancy on Facebook, Twitter, and Instagram!