#Blessed has been trending in social media for a while…  which seems like a good thing, right? Not so fast. Here are some of the ways that people use the popular term, selected from Instagram today.  The photo above, posted by @MTVHunter, is pretty typical.
I clean up nice in cold weather Attire haha. The warm weather in Florida has sure spoiled me over the years! #blessed#model
(Note his profile pic is mainly of his abs.)  A quick scroll through Instagram revealed more ways God has blessed people across America:
 — Two bikini clad women standing on a beach, saying that their phones survived a tropical storm. (Our phones luckily didn't get dragged into the ocean. #blessed)
— Kris Jenner advertising a new television show featuring her family.  (Tonight!!!!! Don't miss @kuwtk at 9/8c #partytime #family #love #blessed)
— A highly filtered woman in a convertible, holding roses (Best #ValentinesDay ever Love my #gorgeous #roses! #luckygirl#loved #blessed)
— A woman taking a selfie while wearing a skin tight dress (Took a lot of work to get back to where I'm at. Looking cute for babe tonight)
Is this what the word "blessed" has become?  Jessica Bennett, writing in The New York Times, explains:
There's nothing quite like invoking holiness as a way to brag about your life. But calling something "blessed" has become the go-to term for those who want to boast about an accomplishment while pretending to be humble, fish for a compliment, acknowledge a success (without sounding too conceited), or purposely elicit envy. Blessed, "divine or supremely favored," is now used to explain that coveted Ted talk invite as well as to celebrate your grandmother's 91st birthday. It is carried out in hashtags (#blessed), acronyms (#BH, for the Hebrew "baruch hasem," which means "blessed be God"), and even, God forbid, emoji.

" 'Blessed' is used now where in the past one might have said 'lucky,' " said the linguist Deborah Tannen. "But what makes these examples humble-brags is not 'blessed' itself but the context: telling the world your fiancé is the best or that you've been invited to do something impressive. Actually I don't even see the 'humble' in it. I just see 'brag.' "
"It's almost as if the Internet now exists simply to voyeuristically hate-read all of the ways everyone else in the world has been blessed," Danielle Thomson is quoted as saying.  "There is literally no other word that can simultaneously inspire such animosity and rapture."
Writer Kate Bowler, who recently wrote a book called Blessed: A History of the American Prosperity Gospel
, believes the popularization of the word is one of the prosperity gospel's greatest triumphs:  "We see it everywhere, from a TV show called 'The Blessed Life' to the self-justification of Joel Osteen, the pastor of America's largest church, who told Oprah in his Texas mansion that 'Jesus died that we might live an abundant life.'"
Of course, there's nothing like the #Blessed tee, which shows just a hint of cleavage: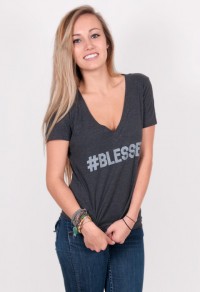 Except maybe this:
via GIPHY Bowler goes on to write:
Over the last 10 years, "being blessed" has become a full-fledged American phenomenon. Drivers can choose between the standard, mass-produced "Jesus Is Lord" novelty license plate or "Blessed" for $16.99 in a tasteful aluminum. When an "America's Next Top Model" star took off his shirt, audiences saw it tattooed above his bulging pectorals. When Americans boast on Twitter about how well they're doing on Thanksgiving, #blessed is the standard hashtag. It is the humble brag of the stars. #Blessed is the only caption suitable for viral images of alpine vacations and family yachting in barely there bikinis. It says: "I totally get it. I am down-to-earth enough to know that this is crazy." But it also says: "God gave this to me. [Adorable shrug.] Don't blame me, I'm blessed."

Blessed is a loaded term because it blurs the distinction between two very different categories: gift and reward. It can be a term of pure gratitude. "Thank you, God. I could not have secured this for myself." But it can also imply that it was deserved. "Thank you, me. For being the kind of person who gets it right."
Of course, there is such a thing as being actually #blessed.  Let's put down our smart phones and try to remember what the Bible says about the word. If  Matthew 5:1-12 had been posted to Instagram instead of included in the Biblical canon, perhaps it would've included the hashtag:
#Blessed are the poor in spirit,
    for theirs is the kingdom of heaven.
#Blessed are those who mourn,
    for they will be comforted.
#Blessed are the meek,
    for they will inherit the earth.
#Blessed are those who hunger and thirst for righteousness,
    for they will be filled.
#Blessed are the merciful,
    for they will be shown mercy.
#Blessed are the pure in heart,
    for they will see God.
#Blessed are the peacemakers,
    for they will be called children of God.
#Blessed are those who are persecuted because of righteousness,
    for theirs is the kingdom of heaven.

#Blessed are you when people insult you, persecute you and falsely say all kinds of evil against you because of me. Rejoice and be glad, because great is your reward in heaven, for in the same way they persecuted the prophets who were before you.
The next time you are tempted to use #blessed on social media, make sure it's not a "humble brag," make sure it's Biblically accurate, and make sure — above all — you know the difference between a gift and a reward.
Order my next three books on Amazon:
X
Read more on the Patheos Faith and Family Channel, follow Nancy on Facebook, Twitter, and Instagram!