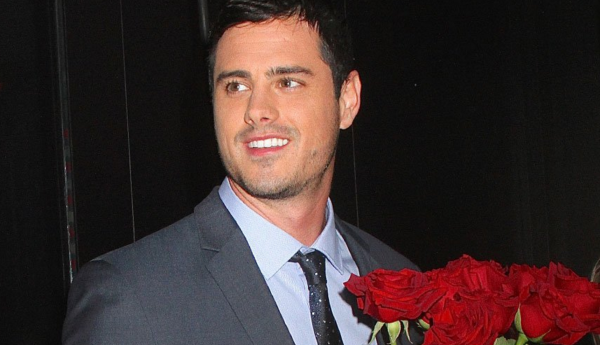 Apparently, Ben Higgins might be getting married on "After the Final Rose."  (A Bachelor first!)  In fact, if you are watching the finale right now, you have seen his pastor Denny Wilson reading his Bible as the show cuts in and out of commercial breaks.
I liked this tweet:
Ben's pastor reads his Bible. A LOT. @SeanLowe09 @NancyAFrench

— Brandon Scott Thomas (@BrandonSThomas) March 15, 2016
I won't spoil who he selects for those who haven't seen the show yet.  However, suffice it to say, Ben's pastor should NOT perform this ceremony for (at least) the following three reasons:
 Ben told BOTH of the final girls that he loved them all the way up to the proposal.  Though they have had a few months to solidify their relationship, his fiancee has not had time to process just how much "in love" he was with another person, even minutes before he proposed.  Is it possible to be in love with two people at once?  Maybe.  But it might take the "lucky girl" some time to process how he felt about the other woman.
Presumably, the pastor hasn't had a chance to give the couple pre-marital counseling. Confession: My husband and I have been married 20 years, and we did not have pre-marital counseling. That makes me realize that life and marriage does not offer cookie-cutter solutions to guarantee perfect results.  However, Sean Lowe (who successfully went through this same scenario) suggested premarital counseling as one of the ways their relationship can survive:


Catherine and I did this at a church in Dallas and it was probably the best thing for our relationship. The counseling connected us with other engaged couples in the city and it prepared us for some of the trickier aspects of marriage – finances, conflicts, spiritual growth, etc.

 Denny Wilson is a minister of the gospel, and — as such — should not marry Ben, unless he and his new fiancee are under that church's authority.  As Russell Moore wrote, " A church that isn't able to hold a couple to their vows (through discipleship and discipline) has no right to solemnize these vows."
In fact, Russell Moore makes the case that preachers should be able to say no to people
who are marrying people who are either unbelievers or "unequally yoked.
"
For many young ministers, this question comes down to a question of courage. If you're not able to turn down family members and friends who expect you to act as a wedding chaplain for them, then how are you going to turn down unbelievers who want to baptized? The gospel minister is made of sterner stuff than what many of us are accustomed to seeing.  The wedding ceremony is one more place where we don't need civil servants. We need ministers of the gospel, those with the courage to let their yes be yes and their no be no.
Is Ben Higgins a Christian?  Is his new fiancee?  We know that Ben has expressed his Christian faith in multiple ways, but that didn't stop him from going to the fantasty suite with several women. (READ The Real Reason Why Christians are Disappointed that Ben Went to the Fantasy Suites.)
That doesn't mean that their faith isn't authentic or that their union won't work.  It just means that there are many issues that this new couple will need to work through — soberly, with the advantage of good Christian counsel, and under the authority of a Church.