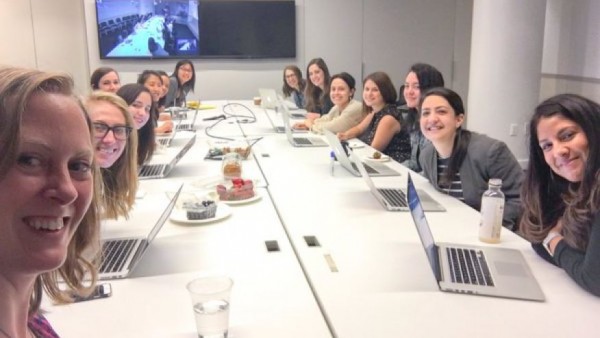 For a liberal publication that is constantly lecturing about diversity in the workplace, the Huffington Post is certainly not practicing what it preaches.
Case in point: a tweet by executive editor Liz Heron that apparently wanted to share with the world just how "diverse" her editorial team is:
Notice anything about this @HuffingtonPost editors meeting? pic.twitter.com/7sg4SyraPa

— Liz Heron (@lheron) May 20, 2016
Yes, Liz, we noticed how the room is light on males and skin tones darker than ivory, but thanks for asking.
Others noticed, as well, and offered some much needed humor to hit back against the blatant hypocrisy from the Left:
.@lheron @HuffingtonPost I'm a suburban Harvard-educated white guy named White and that room makes me look like Shaft

— Popehat (@Popehat) May 21, 2016
.@lheron, Logic, & @HuffingtonPost

"Sexism isn't stopped by hiring women"
"If we only employ women it's not sexism" pic.twitter.com/Pm7h9yrSAX

— MenOnStrike (@MenOnStrike) May 22, 2016
.@lheron I was told that inferring gender identity based on physical characteristics was the height of bigotry, intolerance. How dare you.

— Sean Davis (@seanmdav) May 20, 2016
The very question reeks of crumbling gender binarism and cisnormativism. @lheron should resign in disgrace. https://t.co/721x666NJ4

— Ed Whelan (@EdWhelanEPPC) May 20, 2016
@lheron Oh my bad you have some Asians waaaaaay in the back all kept together….. pic.twitter.com/NPGa67Y25F

— EducatédHillbilly™ (@RobProvince) May 20, 2016
@lheron @HuffingtonPost What I notice is that nobody there is more than 3 years out of college. Ignorant, but cheap as dirt to hire.

— Robert Tracinski (@Tracinski) May 20, 2016
@lheron@HuffingtonPost All Macs?

— Mark Fiore (@MarkFiore) May 20, 2016
Oops! Try again, HuffPo!