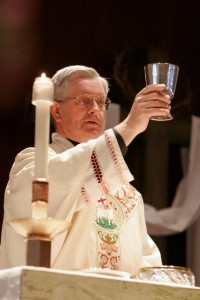 It's amazing how a day in the life of a priest covers so many emotions. This morning I attended the funeral of a brother priest – Msgr. Francis Midura, 67. He died suddenly of a heart attack on July 30th. He was a wonderful priest- a priest's priest. He was a beloved pastor – and a retired Colonel from the US Army.
The turn out for him this morning was remarkable – dozens and dozens of priests showed up to pray for our brother. The emotion in the church as the parishioners mourned their pastor was palpable. I was so incredibly moved to see the love they had for their pastor. It gave me such encouragedment as I begin my priestly ministry to see how much the people of god truly love their priests.
From the funeral I hurried back west and presided at the wedding ceremony of dear friends from High School. I was honest to goodness more nervous that I was at my First Mass – half the people in the Church knew me in High School – Yikes… and I was actually preaching this one!! Thank goodness it went well. The Lord was truly present as this couple exchanged their vows and promised themselves to each other. And I was humbled to represent Holy Mother Church and receive those vows!
So moved was I by the obvious love and devotion of this newly married couple. I ended my homily in what I hope wasnt a cliche…
I'll end with the last words of the famous novel and play – Les Miserables. Allow these words to define your marriage. To define your vocations: "Take my hand and lead me to salvation. Take my love, for love is everlasting. And remember the truth that once was spoken, 'To love another person is to see the face of God.'
As priests we preside over so many funerals and weddings – but so different is it when we actually know the person being buried, or the couple being married. Witnessing friends freely give totally of themselves to each other in holy matrimony is an incredible blessing.
What a gift this life is.
From sadness this morning to overwhelming joy this afternoon. But in all things hope. Christ overcomes all things and in Him alone there is nothing but joy.
Join me in praying for the repose of Msgr. Francis Midura – May the Angels lead him into paradise.
Pray also for this wonderful new creation in Christ – this newly married couple.
God Bless you all!
I've included the clip of the Finale from Les Miserable because its just too good not too. listen to the whole thing. If it doesn't move you… then nothing will. The above quoted line occurs around the 6:00 minute mark.