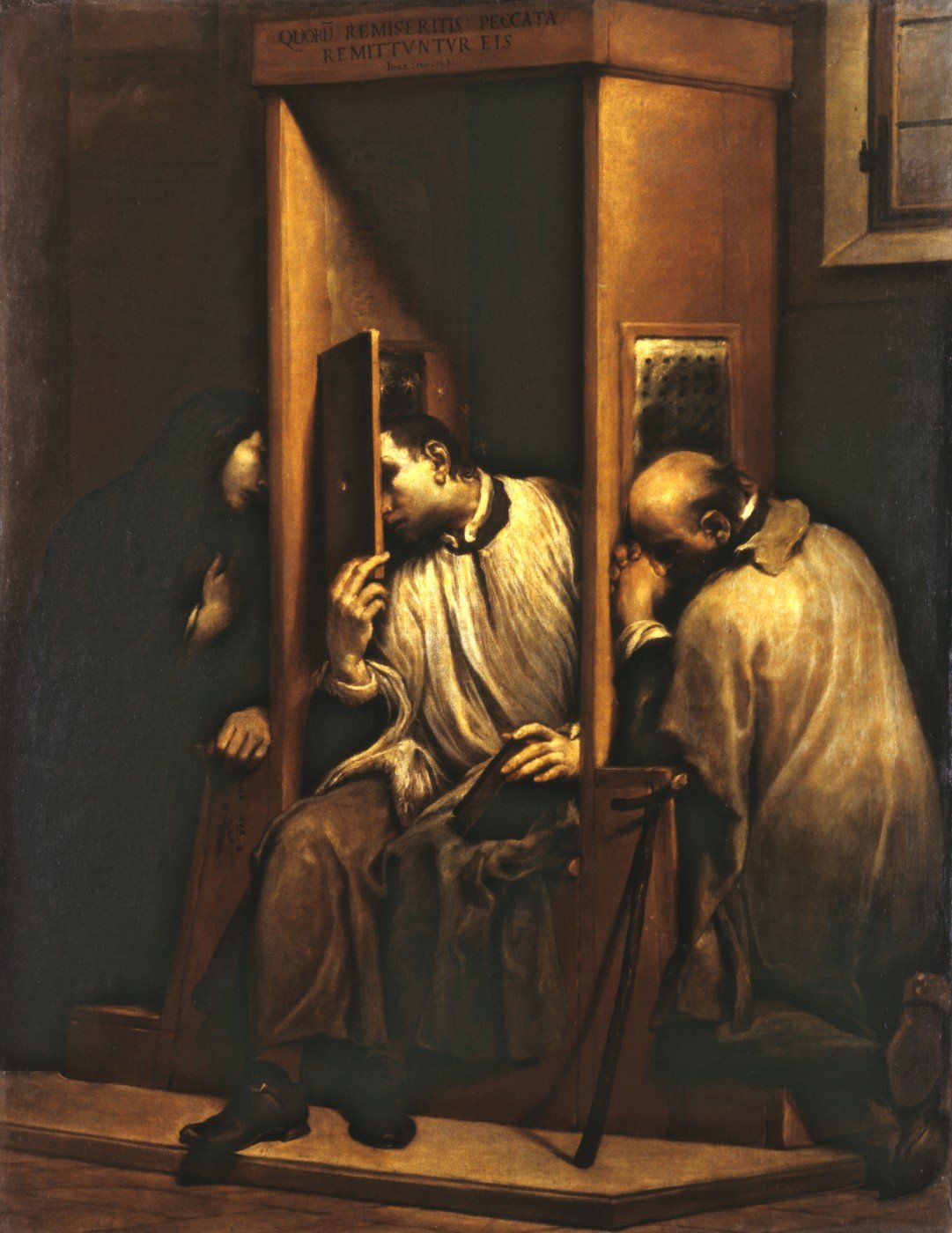 Deacon Greg brought it up here – pointing to a recent article in the Tablet.  Joanne McPortland wrote of her experiences in the confessions here.
All this got me thinking.  I'm new at this.  Confessions.   It's a beautiful thing.  I go between loving hearing them and dreading it… but not really.  I could never dread such a beautiful sacrament.  Such a beautiful encounter one has with Christ – which I am privy to as a priest.
Hearing confessions can be nerve-wracking – not knowing who will come in next, what they will say and what on earth I can say to help them. Boy is the Holy Spirit present in that moment.  The grace of Holy Orders really comes through.  So often I'm not sure what to say, but something good comes out.  So good it shocks me.  God knows it wasn't from me. There is really no way seminary can prepare one for that moment – only to be open to the Spirit.
So many people have had such horrid experiences in the confessional.  My own great-grandfather was yelled at by a priest in the confessional and didn't go back for the rest of his life.  Decades.  I've said it so many times – a good priest can do a tremendous amount of good… and a bad priest… well you all get the idea.
I often tell people if you're in the confessional for longer that a few minutes either you're doing it wrong or the priest is.  Confession isn't meant to be counseling.  It's for the confession of sins and the reception of absolution.  I would never rush anyone out of the confessional… but sometimes we need to be reminded what exactly it is we're doing in there.
As a confessor I model myself after a good and holy priest of my diocese who is the former rector of the seminary.  He always told us seminarians to be easy confessors!  That way they come back!  He used to tell us: "One Hail Mary for anything genocide on down".  HAH.  But you know what… it works.    People appreciate knowing they don't have to be afraid of the confessional.  I tell people constantly – don't worry…I'm easy!
The thing that surprised me most about hearing confessions is how much it makes me want to go to confession.  they say a good confessor must first be a good penitent.
All this got me thinking… I wonder if we should start a new tradition.  Sitting on the other side of the screen I know just how difficult confessions can be.  Lets start praying for the priest before we go in.  Lets lift him up and ask the Holy Spirit to guide him in whatever it is we need to hear at that moment.  Lets ask the Holy Spirit to strengthen all those priests the world over and make them good and holy confessors.  Me included.